Starting in the summer months of 2000, Rajasthan and much of Gujarat reeled under severe drought, which was extensively covered in India Today magazine. Further, the Care Today Fund's board of directors felt a very strong need to respond to the situation and decided to setup the Fight the Drought project in May 2000. The projects implemented thereafter were of two types - those to address the immediate situation of shortages of fodder and water (such as distribution of water by tanker, and cattle camps), and those to address longer-term issues on the vulnerability of villages in the region to future droughts (such as construction of water catchment structures). The projects were focused in northern Gujarat (Kutch and Surendranagar districts) and western Rajasthan (Bikaner, Jaisalmer and Barmer districts), with some additional work in southern Rajasthan (Udaipur, Rajsamand and Dungarpur districts). A total of 11 projects were supported under FTD, all to NGOs, for a variety of different activities beginning in May 2000 and ending in July 2003.
Our efforts
In partnership with Aga Khan Rural Support Programme (AKRSP), Care Today Fund constructed two percolation tanks on the rivulet behind village Sokhada in Surendranagar district, Gujarat. These percolation tanks enabled rainfall to recharge ground water stocks. Four hand pumps and four wells were revived to make water available throughout the year, a big boon for 238 households in the village. Care Today Fund also supported AKRSP to distribute drinking water in eight villages of Sayla Taluka in Surendranagar district, Gujarat. Under this project, the tankers filled the community water storage structures which had multiple outlets enabling the households to take their fill of water in an orderly fashion during the worst months of the drought.
In partnership with Kutch Mahila Vikas Sangathan (KMVS), Care Today Fund constructed three check-dams along a rivulet in village Vyar in Gujarat. The project regenerated 20 hectares of pastureland, providing water and recharging wells. Roof water harvesting tanks with a capacity of 10,000 litres was constructed for 50 vulnerable households in the Pachham region of Kutch district, Gujarat. Another 11 community water tanks, with a capacity of 8,000 and 10,000 litres, were built at common water points. The project enabled these households to meet significant portion of their daily water needs.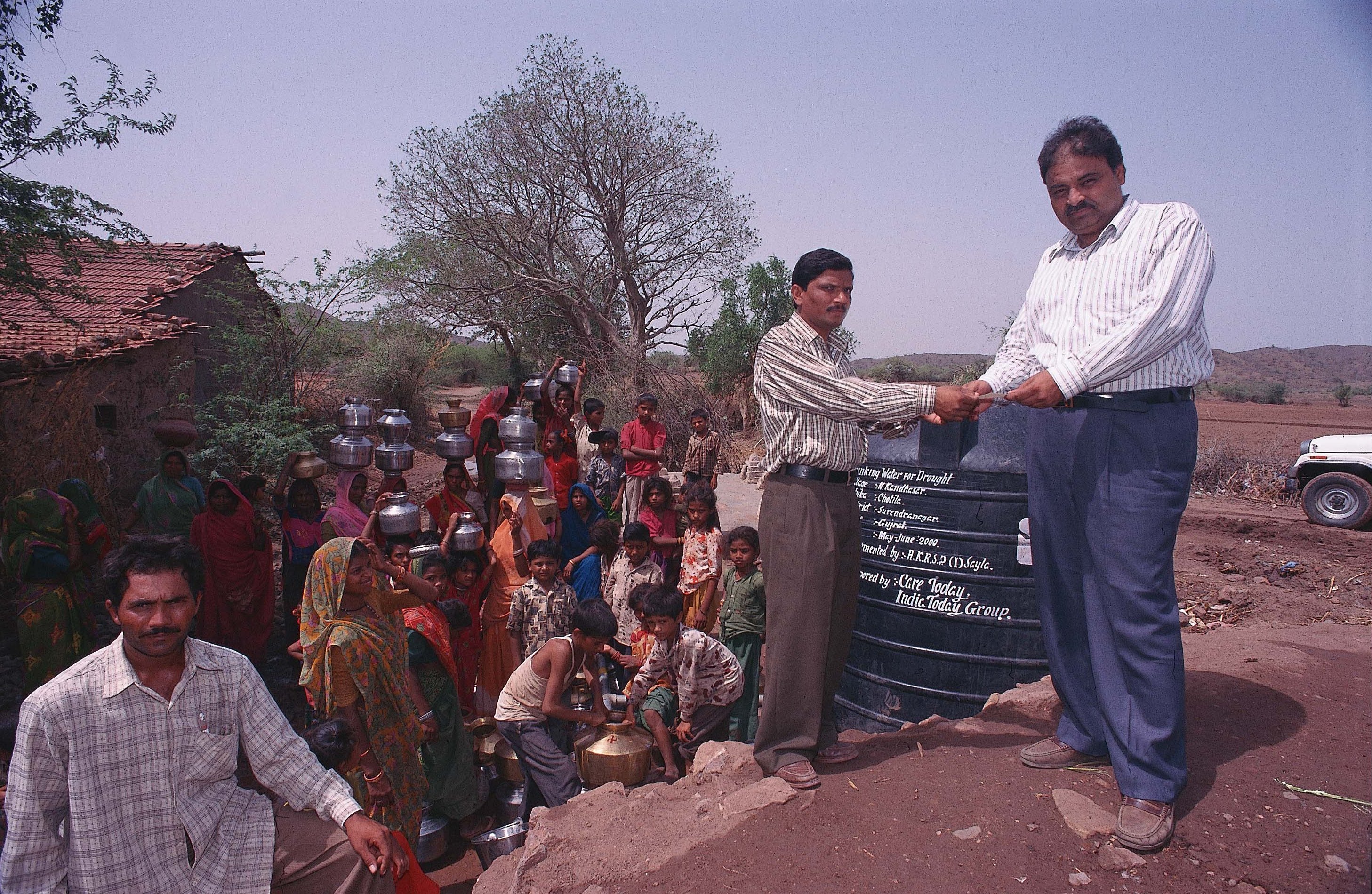 In partnership with Urmul Marusthali Bunkar Vikas Samiti (UMBVS), Care Today Fund constructed cement waste weirs along sand barriers in Nagnecha, Begdon ki Dhani and Hingdon ki Dhani villages of Jaisalmer district, Rajasthan and also built 24 check dams. Sand barriers were used to channel the flow of rainwater to the fields. The weirs increased the longevity of these sand barriers, as they have been built along the points of maximum pressure on such barriers. The cement walls enable excess water to overflow without destroying the barriers. 150 vulnerable families received regular wages during the worst period of the drought due to the project implementation. It also increased the output of 25 poor families due to the increase of moisture in the soil as the result of barriers.
In partnership with Society to Uplift Rural Economy (SURE), Care Today Fund constructed a Nadi/line pond in village Kumharon ka Tiba, Barmer district, Rajasthan. The pond was built on a natural depression and has the capacity to store water for 240 households in this remote border village for up to 10 months.
In partnership with Urmul Setu Sansthan, Care Today Fund undertook a series of drought-proofing activities in village Dhani Bhopalaram of Barmer district, Rajasthan. The project included repairing two traditional storage tanks as well as a ground-level reservoir; fencing of the village pastureland and setup a grain bank. The pasture has been regenerated and caters to over 800 cows and 200 sheep. The tanks were made functional and also became additional sources of water for the villagers.
In partnership with Asthan Sansthan, Care Today Fund deepened 25 existing wells and revived water supply in the tribal areas of Pali and Rajasmand in Udaipur district, Rajasthan.
In partnership with Nahri Kshetra Vikas Evam Prabandhan Samiti, Care Today Fund provided support in running a successful cattle camp from February 2003 to end of May 2003 with 400 cattle, covering 189 families in village Bhaluri, Bikaner district, Rajasthan.
In partnership with Urmul Jyoti Sansthan, Care Today Fund provided seeds to 75 small and marginal farmer families in villages of Maiyasar, Himmatsar, Kakra, Bagseu and Mainsar of Nokha Tehsil in Bikaner District of Rajasthan that enabled the farmers to sow their Kharif crops.