1. PROJECT ALIGNED TO PROMOTING PREVENTIVE HEALTH CARE & COVID RESPONSE
In 2021, as the nation continued to battle the monster covid surge, Care Today Fund effectively responded by promoting preventive health care and supporting covid vaccination drive.
The following activities were undertaken in FY 2021-22:
A. Support through Gurudwara at Indirapuram, Uttar Pradesh
Oxygen Concentrators (10 Nos.), Medical equipment like Nebulizers (20 Nos.), Gloves (1 Box), Oximeter (20 Nos), Infrared Thermometers (20 Nos.) and N 95 Masks (100 Nos.) was provided to the Gurudwara in Indirapuram, Uttar Pradesh to support and save lives of covid-19 patients. Ration kits were also provided for 10 most needy people for a period of one month. On an average, around 500 covid-19 patients were supported in a day through the Gurdwara Committee during the peak covid-19 period.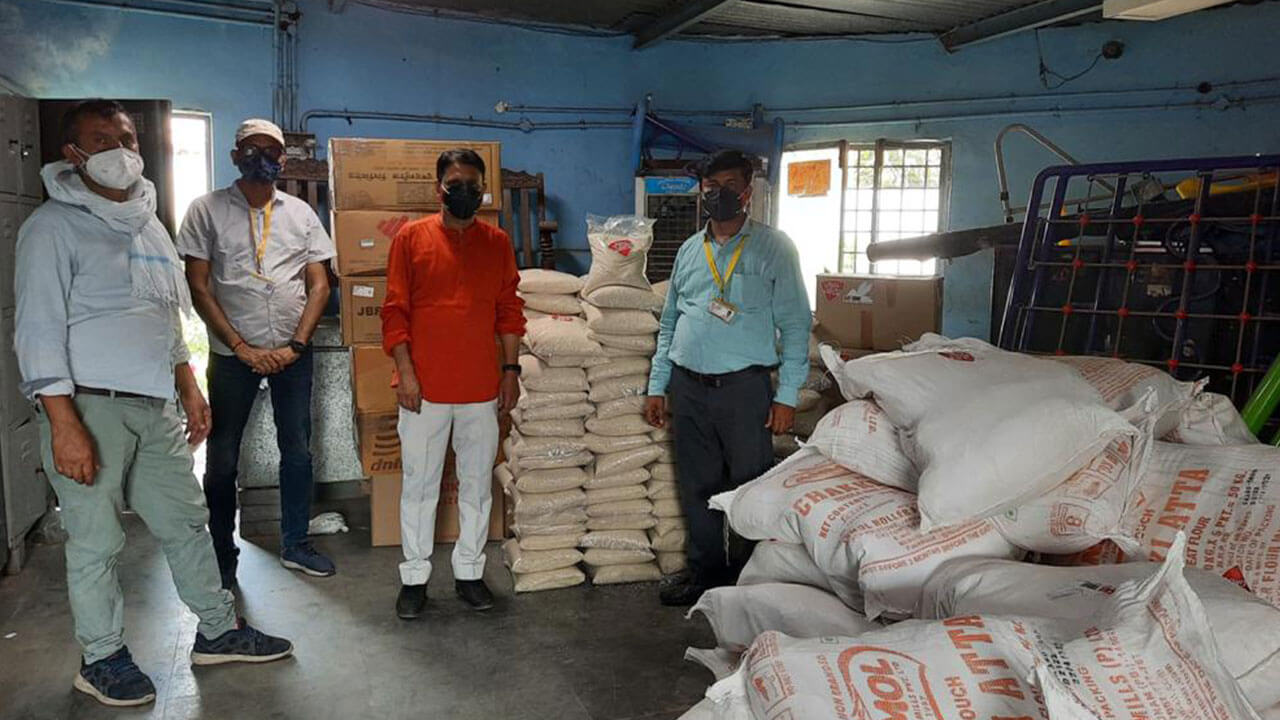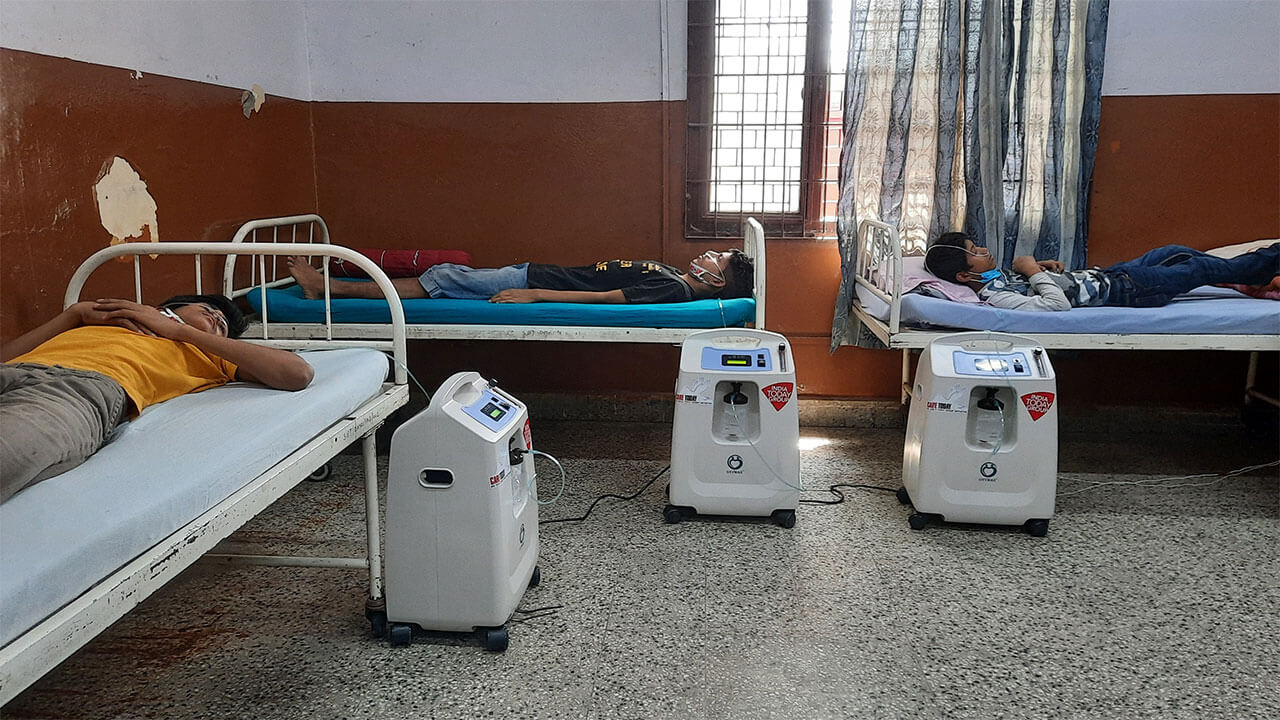 Dry ration kits were distributed to 200 covid pandemic affected families and provision of oxygen concentrators facilitated in providing oxygen support to hundreds of critical covid-19 patients in partnership with Salaam Balak Trust.
B. Support through Salaam Baalak Trust
Oxygen Concentrators (3 Nos.), Nebulizers (14 Nos), Oximeter (10 Nos), Steamers (40 Nos) and Sanitizer (40 Cans) were provided to Salaam Baalak Trust to support people who were infected by Covid-19 and were under the care of Salaam Baalak Trust. Medicines were also provided to 20 patients for a period of one month. Ration kits were distributed to 200 families whose income sources were severely affected due to covid-19 pandemic.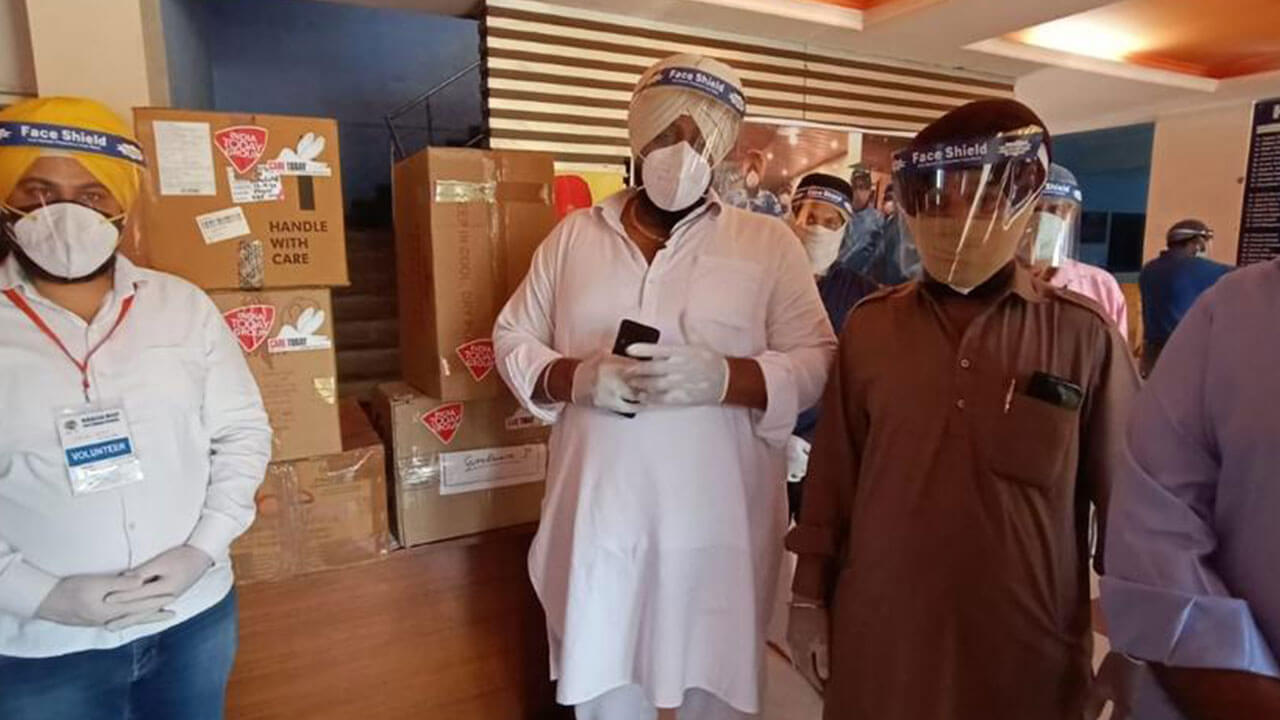 Medical equipment were provided to the Gurudwara at Indrapuram, Uttar Pradesh by which lives of hundreds of covid-19 patients were saved.
C. Support through Gurdwara at Hapur Road
10 Oxygen Concentrators were provided to Gurdwara at Hapur Road in order to support covid-19 patients. With the support received, the Gurdwara was able to support patients with oxygen for an average of two hours each a day.
D. Support through Care India
In partnership with Care India, 1000 PPE kits were provided to the health workers working at various government hospitals in Bihar, who were serving covid-19 patients and the affected communities during the peak period. The support benefitted the health workers in order to serve the affected communities efficiently and effectively.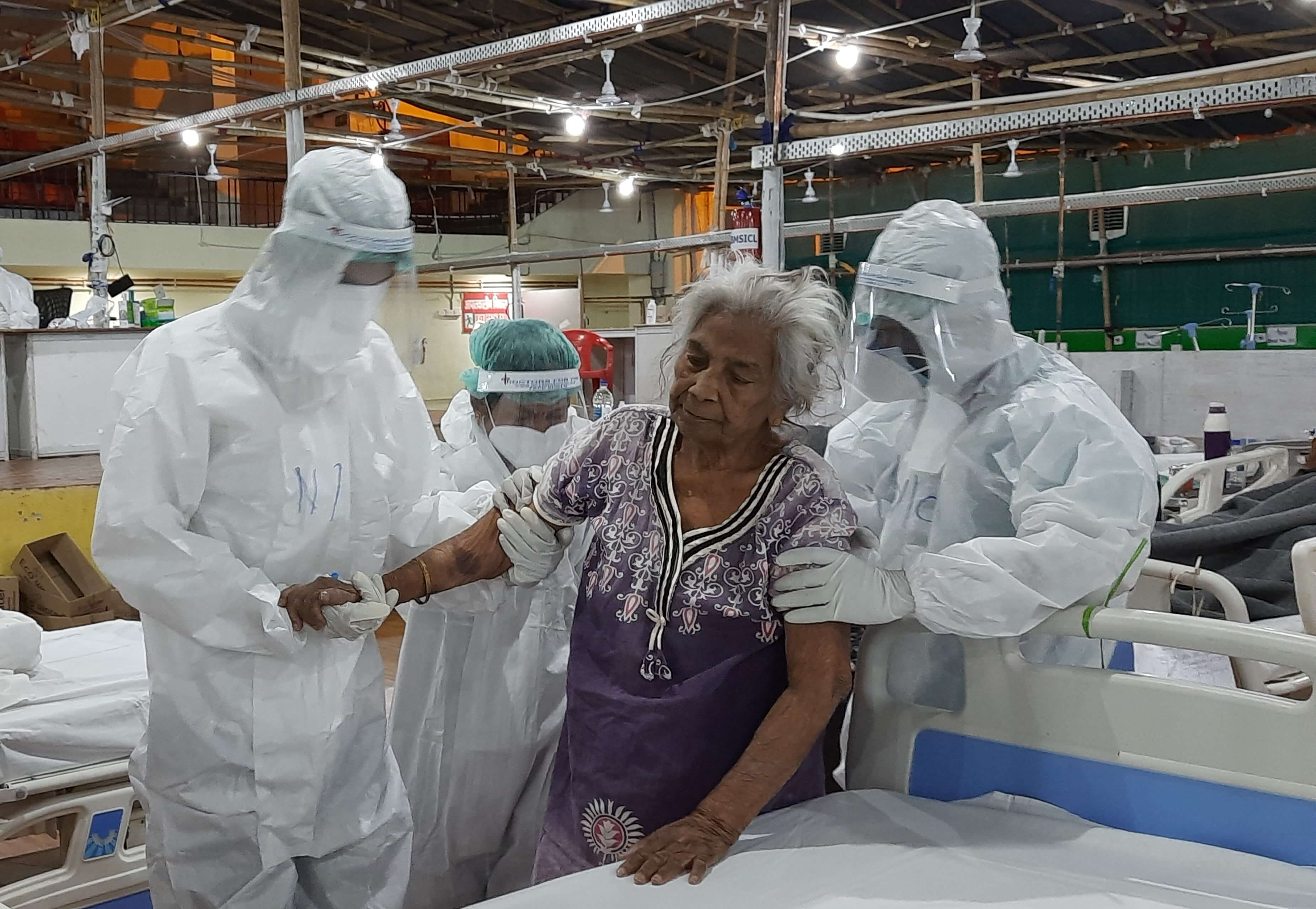 An elderly Patient is assisted to her bed by health workers who were provided with PPE Kits
E. Support to Camel riders' families in the scorching desert!
Care Today Fund supported 250 needy camel riders' families in Jaisalmer, Rajasthan, with relief materials. Covid-19 had severely crippled the economy of the Sam region that thrived on tourism and threw lives out of gear and parched the meagre means of earning. Their acute situation was reported by Ms. Mausami Singh from India Today and Care Today Fund ensured that the immediate support for their survival was reached within couple of hours. The relief provided to the needy families brought back their smiles and as melodious mangniyar singers they also broke into celebration. The relief to this arid region is just a tiny drop in the ocean but has reignited hope and faith in the desert people's life.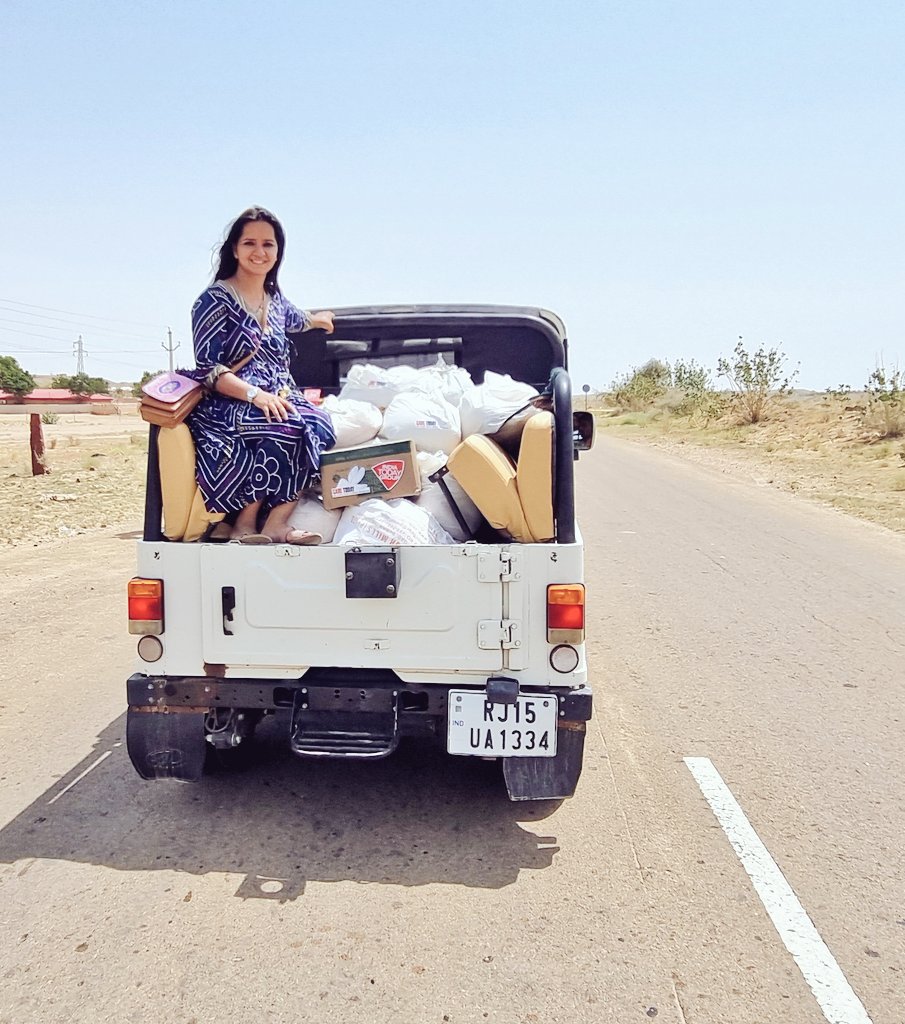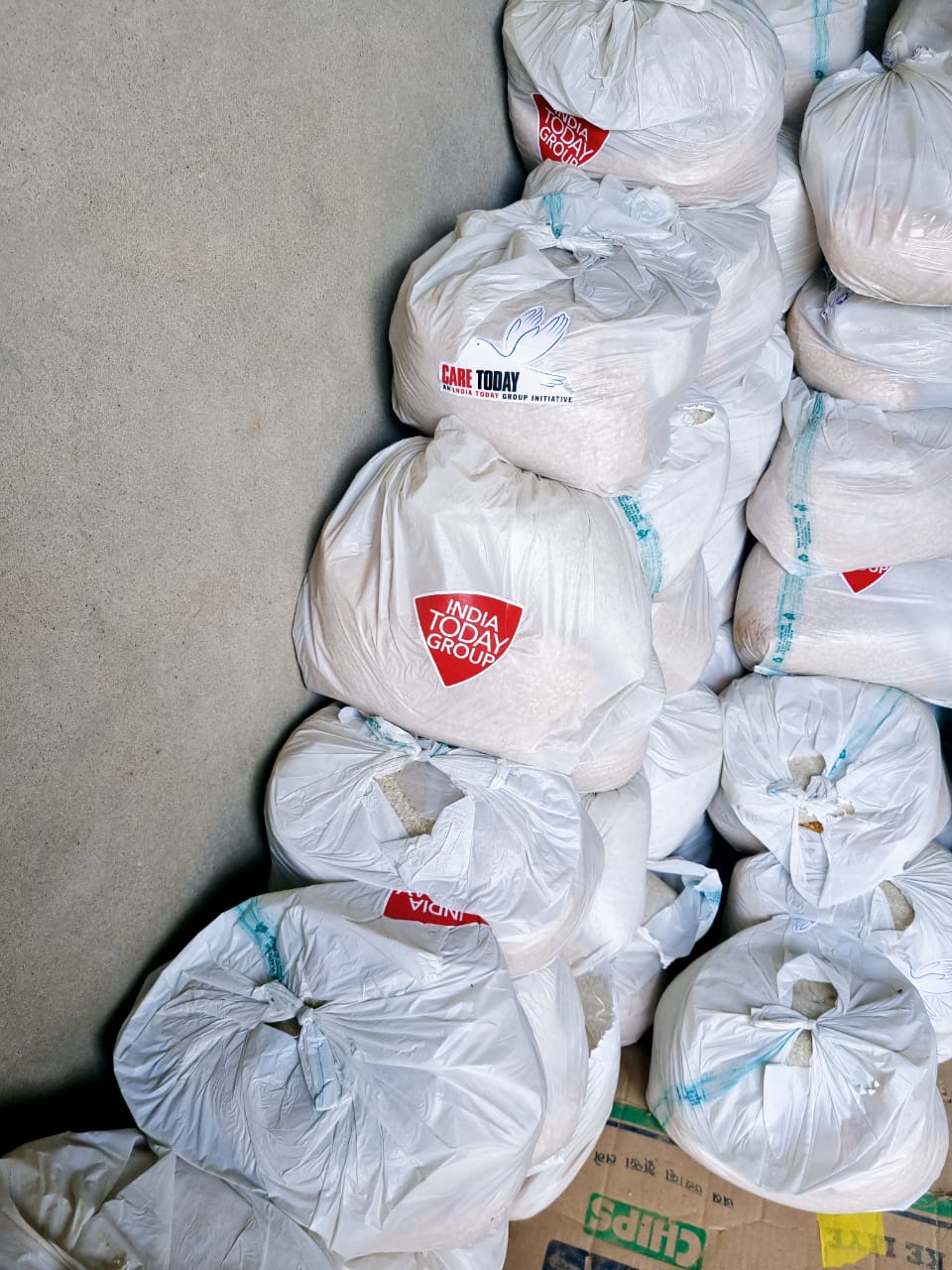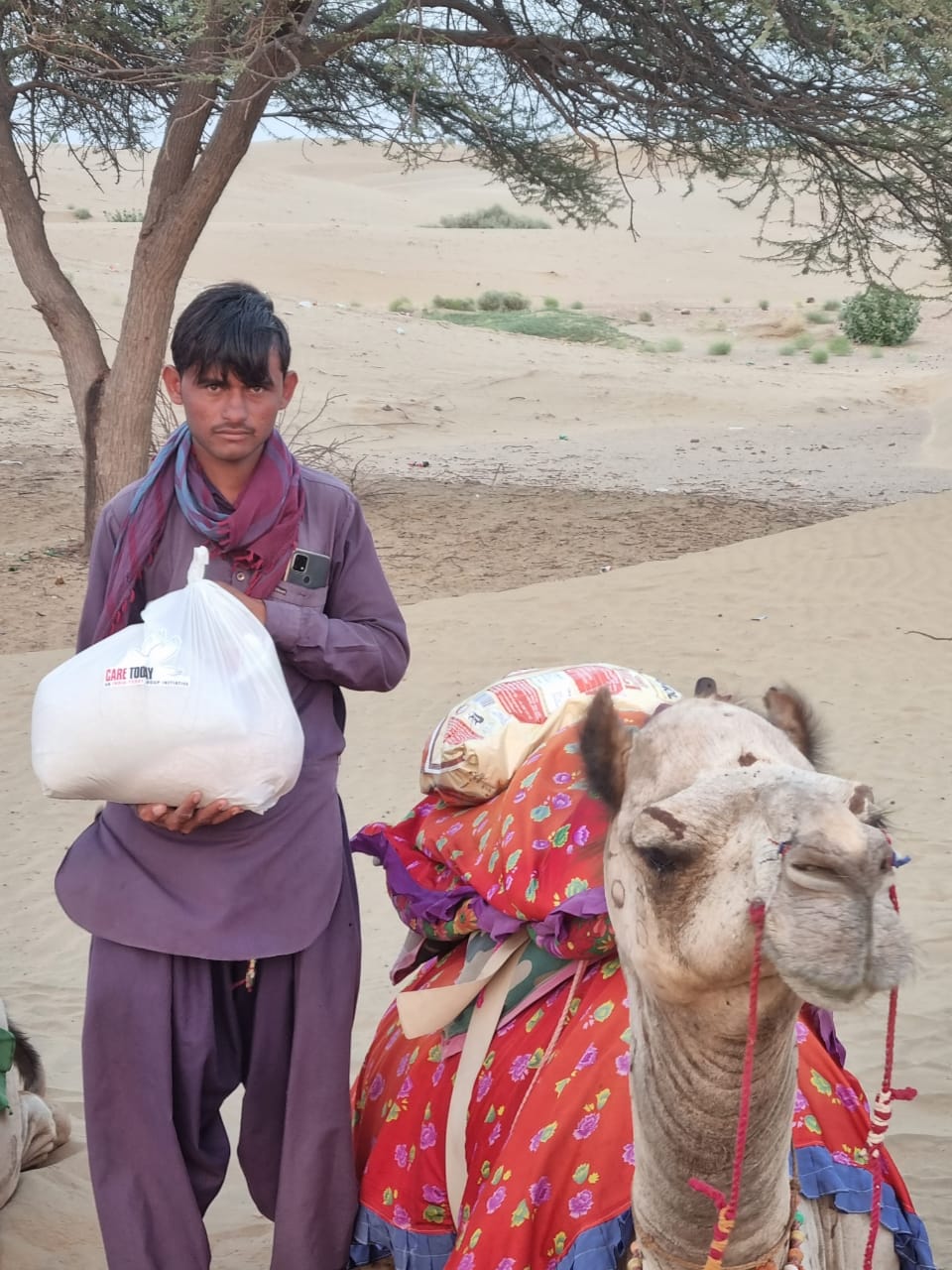 (Left to right): Ms. Mausami singh with the relief materials; 250 relief kits were distributed to the needy camel rider's families in Jaisalmer, Rajasthan; and one of the camel rider who received relief kit, along with his camel.
F. Support through Mobile Corona Clinic
Care Today Fund, in partnership with Doctors For You, supported in providing mobile healthcare services in some of the remote areas in Lucknow, Gorakhpur and Mau districts in Uttar Pradesh and Muzaffarpur and Patna districts in Bihar, where quality medical services for covid-19 were not available. Five Innova SUVs were equipped with medicines, oxygen cylinders and covid-19 testing facilities. A doctor and a qualified nurse also accompany each of the vehicles. These clinics on wheels provided free medical consultations, appropriate medications, rapid testing for coronavirus, provided oxygen support for those who had breathing trouble and also provides appropriate referrals to critical patients. The initiative assisted 10,817 people, dispensing free medicines, medical advice or treatments at their doorstep. The number includes 1,811 individuals who were tested for Covid-19.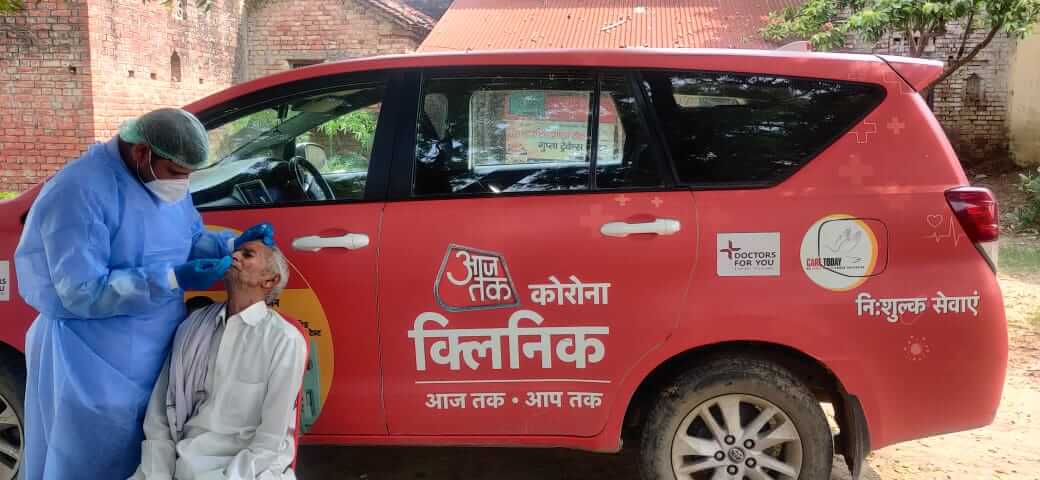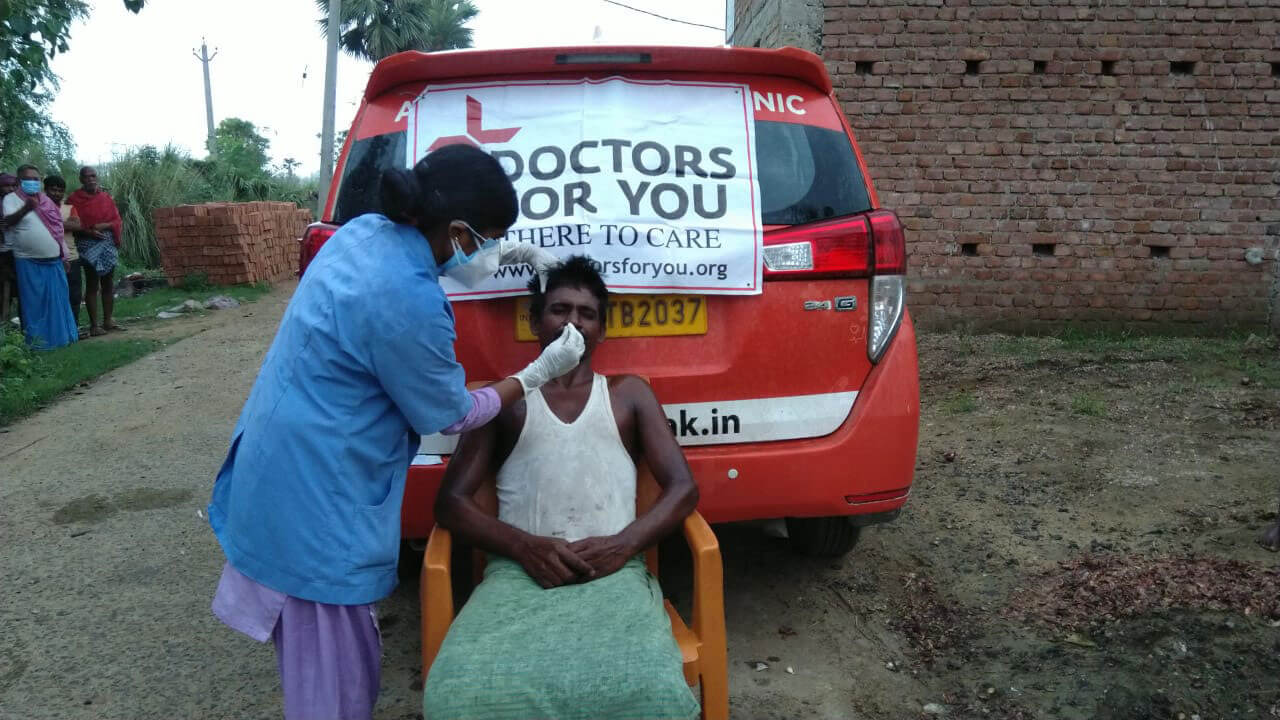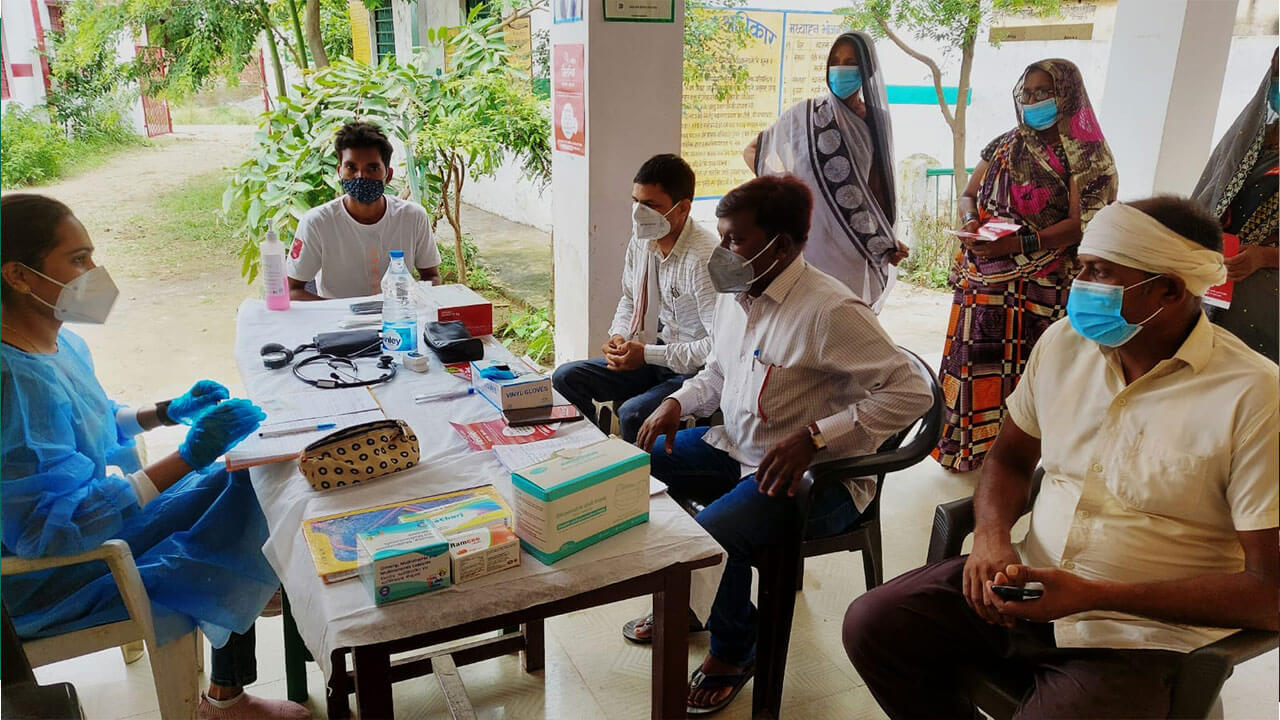 (Top) Covid-19 test being taken in village Kamthari Noorpur in Mau district, Uttar Pradesh; (Down Right to Left) medical consultation given to people in village Gaurakhas, Gorakhpur district, U. P.; and Rapid test organized in village Aimanbigha of Patna district, Bihar.
G. Support to combat extreme cold
Care Today Fund distributed heavy woolen blankets to 1139 poor migrant workers in the slums of Zamrudpur, Sector-53 & 56, Gurugram, Haryana, to combat the extreme cold weather. Blankets were distributed to those beneficiaries who had lost their livelihood due to Covid-19 and have been struggling to meet their daily needs. The distribution was carried out by Care Today Fund with the support from the policemen of Gurugram Sector-53 police station and community members. The community members were extremely happy to receive the blankets and conveyed their gratitude to Care Today Fund and India Today Group for reaching out to them and providing this valuable support.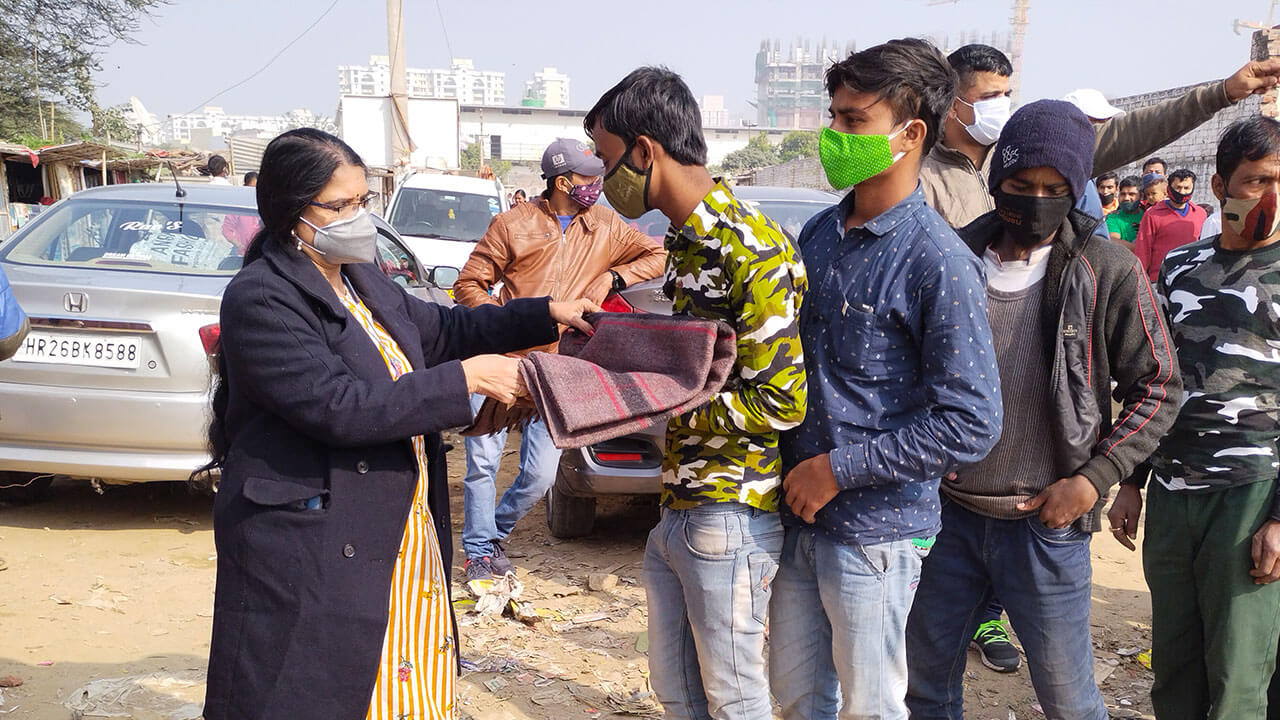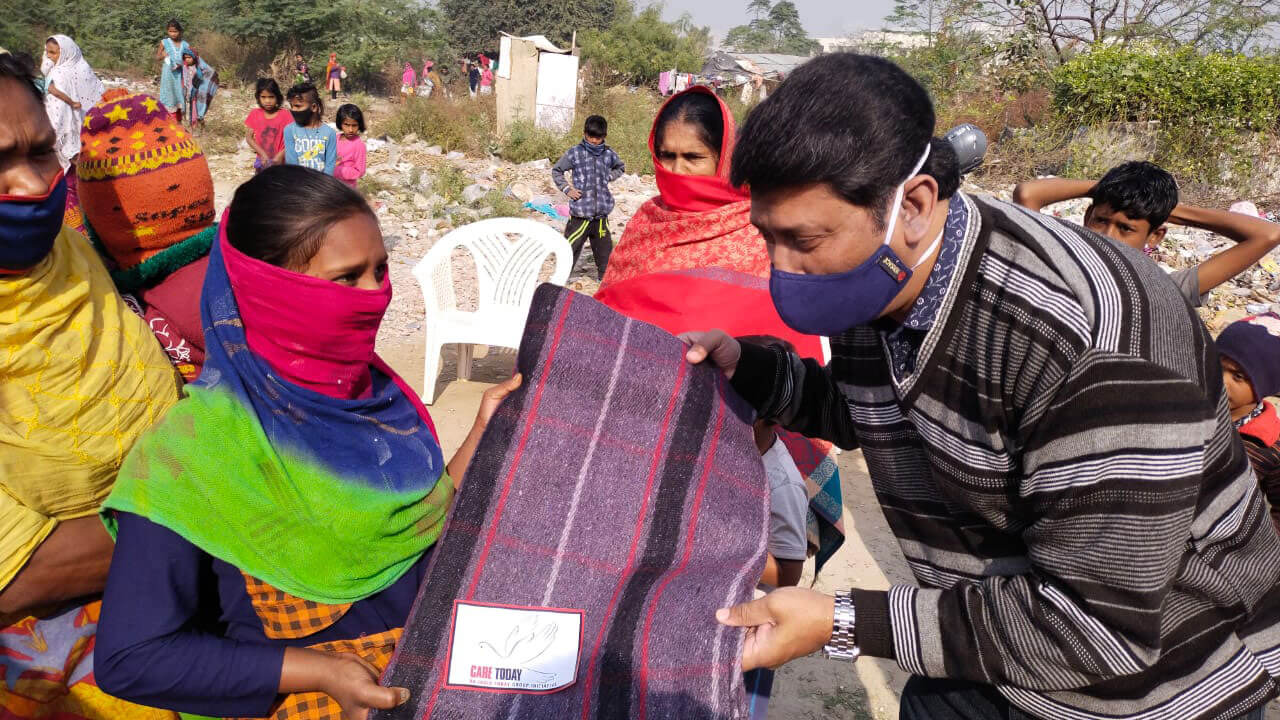 Families of poor migrant workers in the slums of Zamrudpur, Haryana receiving blankets to combat extreme cold
H. Support for Covid Vaccination
Care Today Fund in partnership with Doctors For You provided preventive health care support to covid patients and provided covid vaccination to 57,728 eligible individuals at their doorsteps in the remote areas in the States of Uttar Pradesh and Manipur. Vaccination was given to individuals aged 12 years and above.
The details are the following:
States
Centres
No. of Individual Vaccinated
Uttar Pradesh

Amroha PPC
Amroha Hasanpur

Manipur

Bishnupur Team E
Bishnupur Team 1
Thoubal

Grand Total
57,782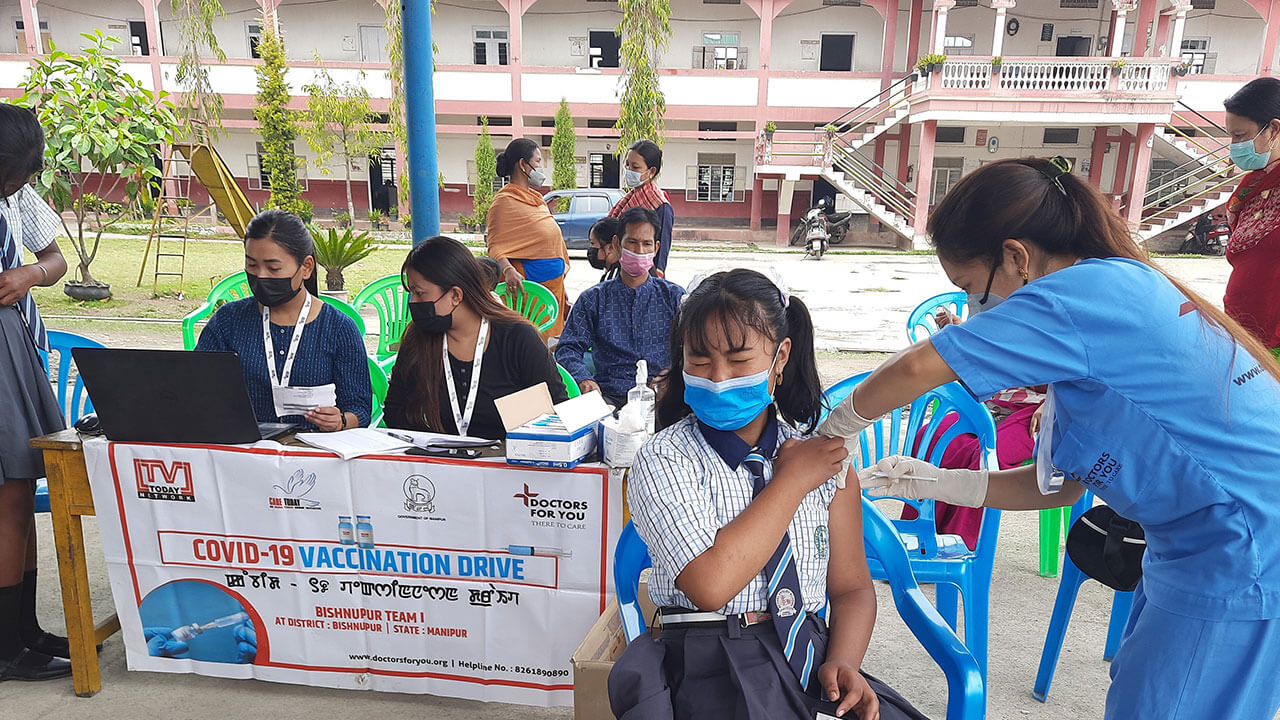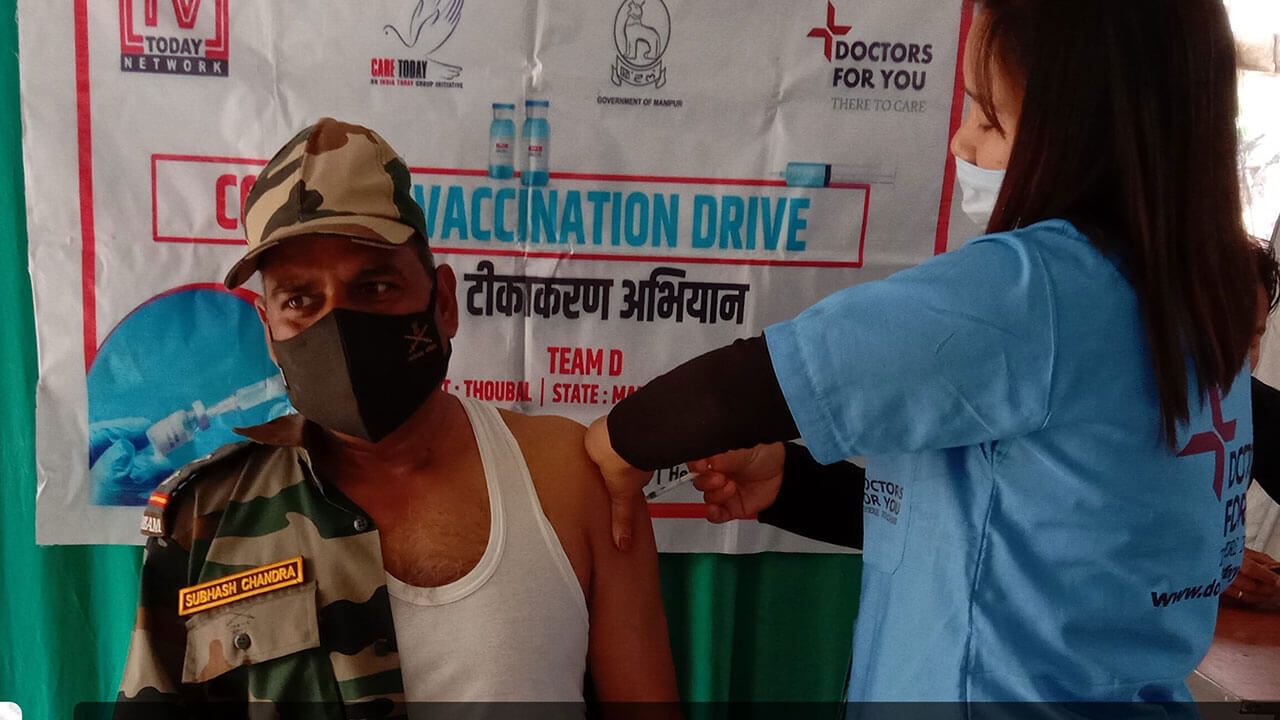 (Clockwise from Top Left): A student being vaccinated in Bishbupur, Manipur; an adult being vaccinated in Hasanpur, Amroha, Uttar Pradesh; Registration and Verification of beneficiary ID at Hasanpur, Amroha, Uttar Pradesh; and a Frontline worker being vaccinated in Thoubal, Manipur
2. PROJECT ALIGNED TO ENSURING ENVIRONMENTAL SUSTAINABILITY, AGRO FORESTRY, CONSERVATION OF NATURAL RESOURCES & MAINTAINING QUALITY OF SOIL, AIR & WATER
Care Today Fund in partnership with IFFCO Kisan Sanchar Limited implemented a tree plantation project along the banks of Shahdara drainage at a stretch of 1 km in Noida, Sector-16 A and Sector-18 areas. The project activities included clearing of debris, wastes and weeds; leveling the areas; filling of soil; adding of manure; and plantation of trees (approx. height of each sapling was 3 to 4 ft.), including Shisham (1500), Jamun (1500), Silver Oak (1000), Eucalyptus (2000), Arjuna (1500), Alstonia Scholans (1500), Cassia Samea (1500), Pongamia Pinnata (500), Thevatia Nerifolia (1000), Narium Olender (1000), Tecoma Gaudi Chaudi (1000) and Calliendra Speciosa (1000). Regular watering of plants and maintenance of the same is being undertaken. The project will ensure environmental sustainability, agro forestry and quality of soil, water and air in the area.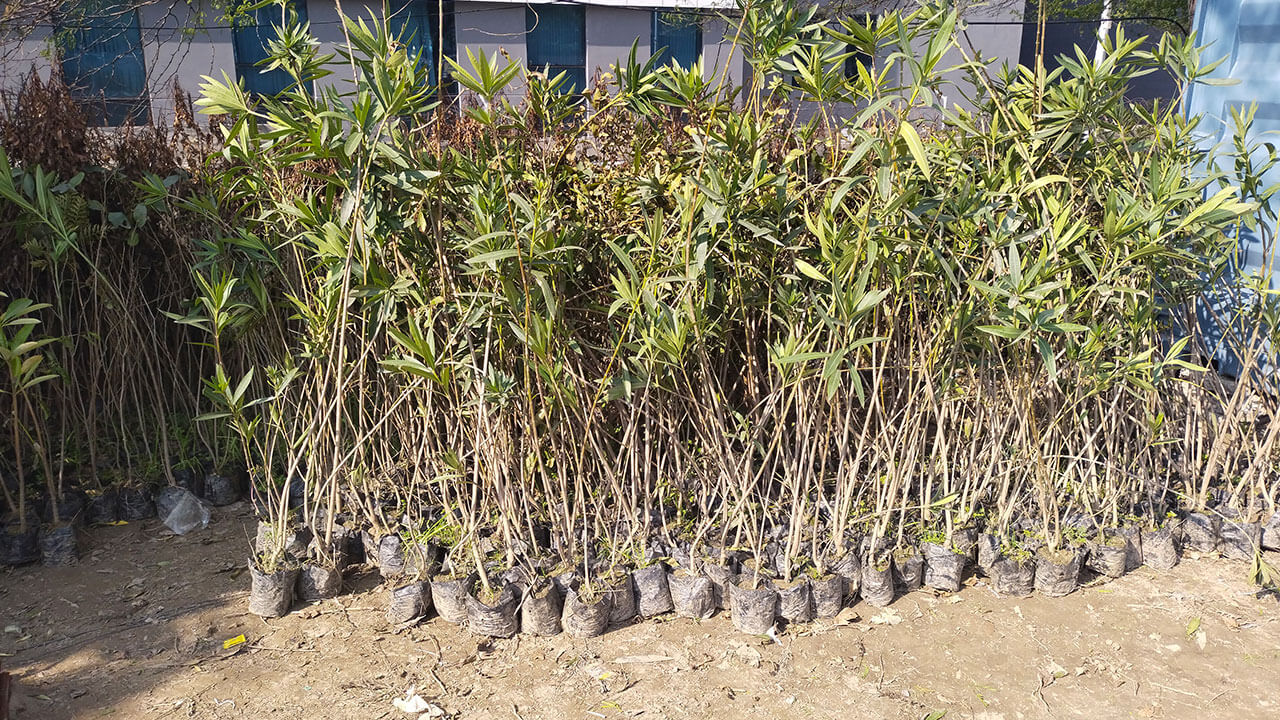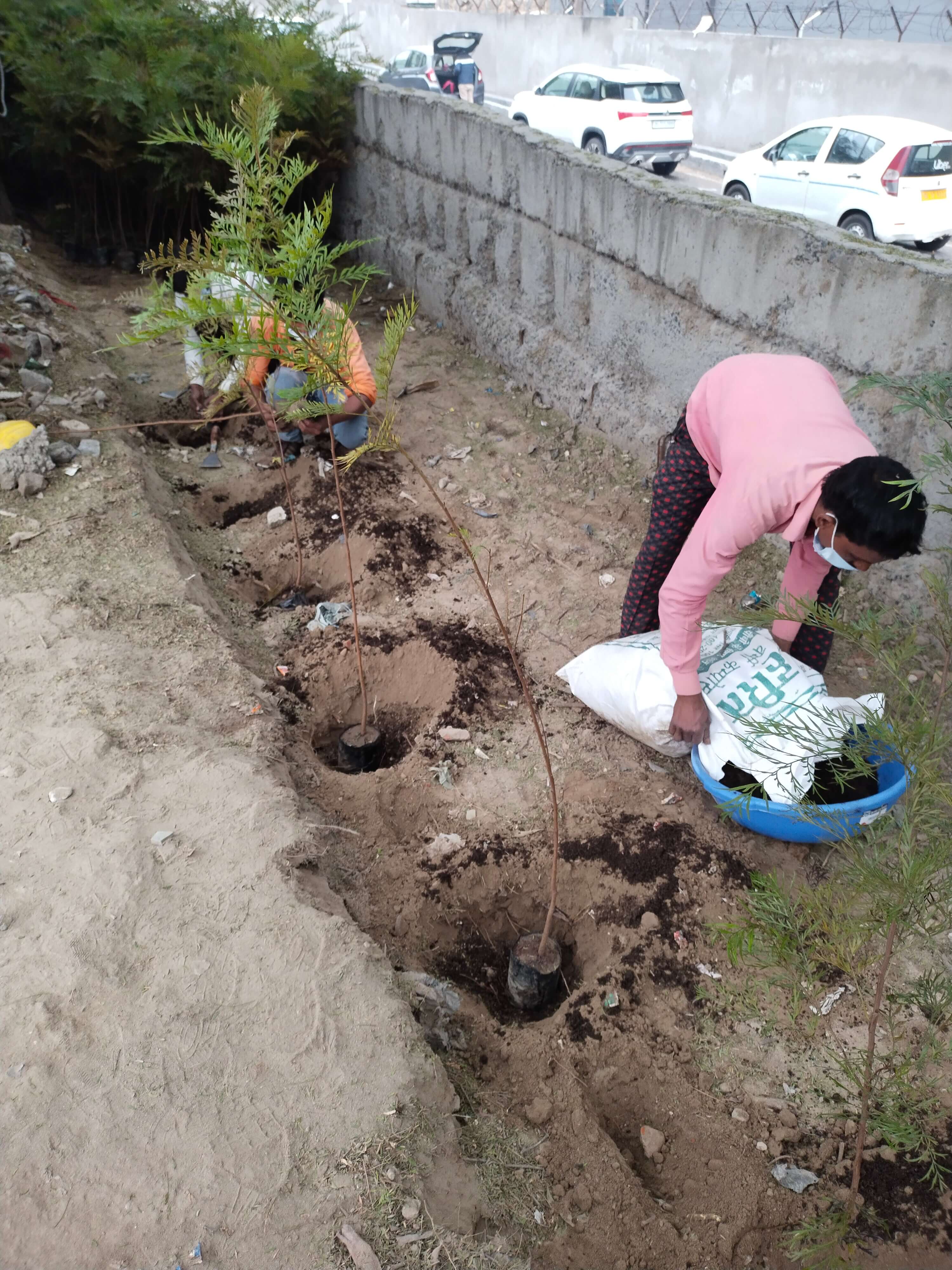 (Left to Right): Clearing of wastes and debris; Saplings for plantation; and digging pits, adding manure and plantation of saplings in progress.
3. PROJECTS PROMOTING EDUCATION
Care Today Fund undertook following initiatives to promote education during FY 2021-22:
A. Education support to covid orphans/abandoned children in 8 cities in 8 states
In partnership with SOS Children's Village of India, education support was provided to 79 children who were orphaned due to covid-19 pandemic and those who were abandoned. These children have been adopted by SOS Children's Village of India into their homes located in 8 cities, including Varanasi (16), Bhuj (2), Bhopal (19), Bhubaneswar (6), Hojai (6), Begusarai (7), Nagapattinam (9) and Raipur (14). The support included getting children admitted to schools, provide them with books, uniforms, fees and also meet their daily basic needs.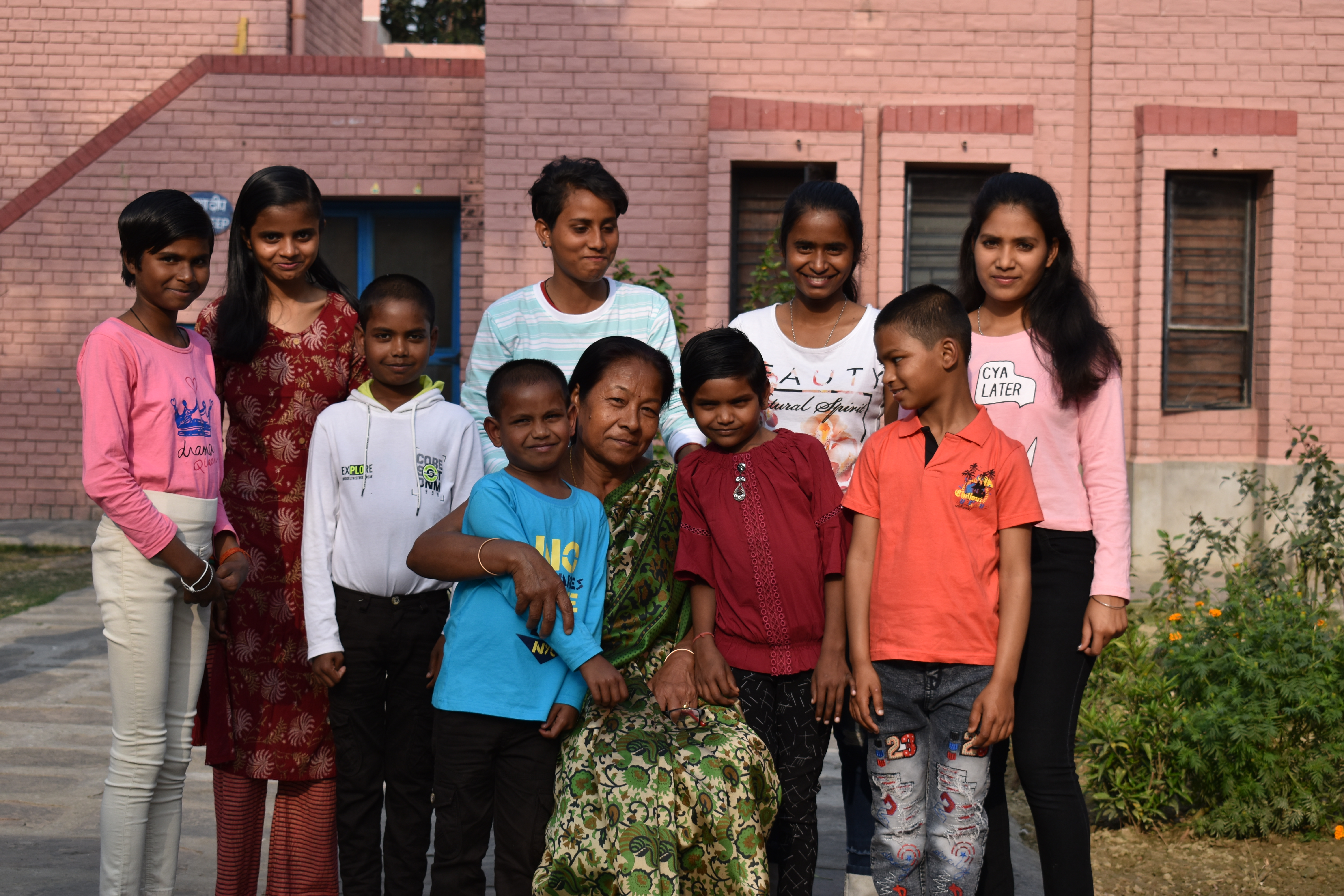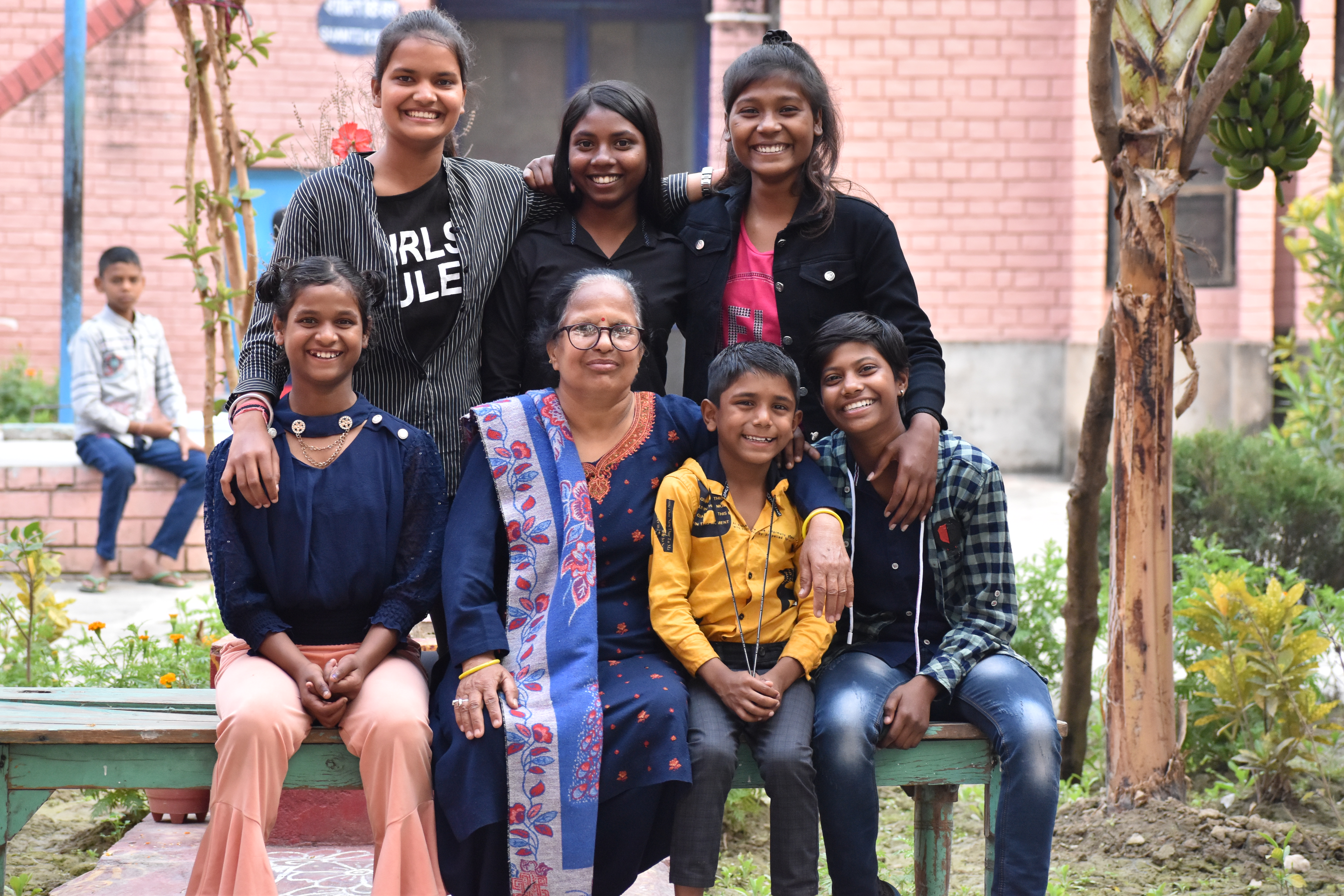 Children who are being supported for their education at the SOS Children's Village, Varanasi, Uttar Pradesh
B. Setting up of E-learning access centre in Kerala
In partnership with ActionAid Association, an E-learning access centre is being setup in Thirunelly Panchayat, Mananthavady Block, Wayanad district, Kerala to support online studies of underprivileged children, who have been severely affected by Covid-19 protocols and restrictions. The construction of 600 sq. ft. structure is under progress and digital equipment, including internet commissioning, will be installed once the construction is completed. The facility will enable school and college students to access internet facilities free of cost and also have uninterrupted online classes; spend some quiet reading time and also provide basic computer literacy to the local youths.
4. PROJECTS ON EMPLOYMENT ENHANCING VOCATION SKILLS AND LIVELIHOOD ENHANCEMENT
Care Today Fund undertook following initiatives in providing livelihood support and employment enhancing skills during FY 2021-22:
A. Livelihood support in Uttar Pradesh
In partnership with Arthik Anusandhan Kendra, livelihood support was provided to 111 families who had lost their income sources due to covid pandemic in six villages of Bijuri and Sahji in Sahji Gram Panchayat and Devri Nadi Teer, Suiya Kala, Majhiyar and Mawai Kala in Mawai Kala Gram Panchayat in Mirzapur district, Uttar Pradesh. The support included provisions of lift irrigation machines/mechanisms to 30 families, dairy farming (2), goat farming (12), poultry farming (34), pig farming (12), establishing new businesses (11) and tailoring machines, along with skill training (10). The effort will contribute towards sustainable income source for the beneficiaries.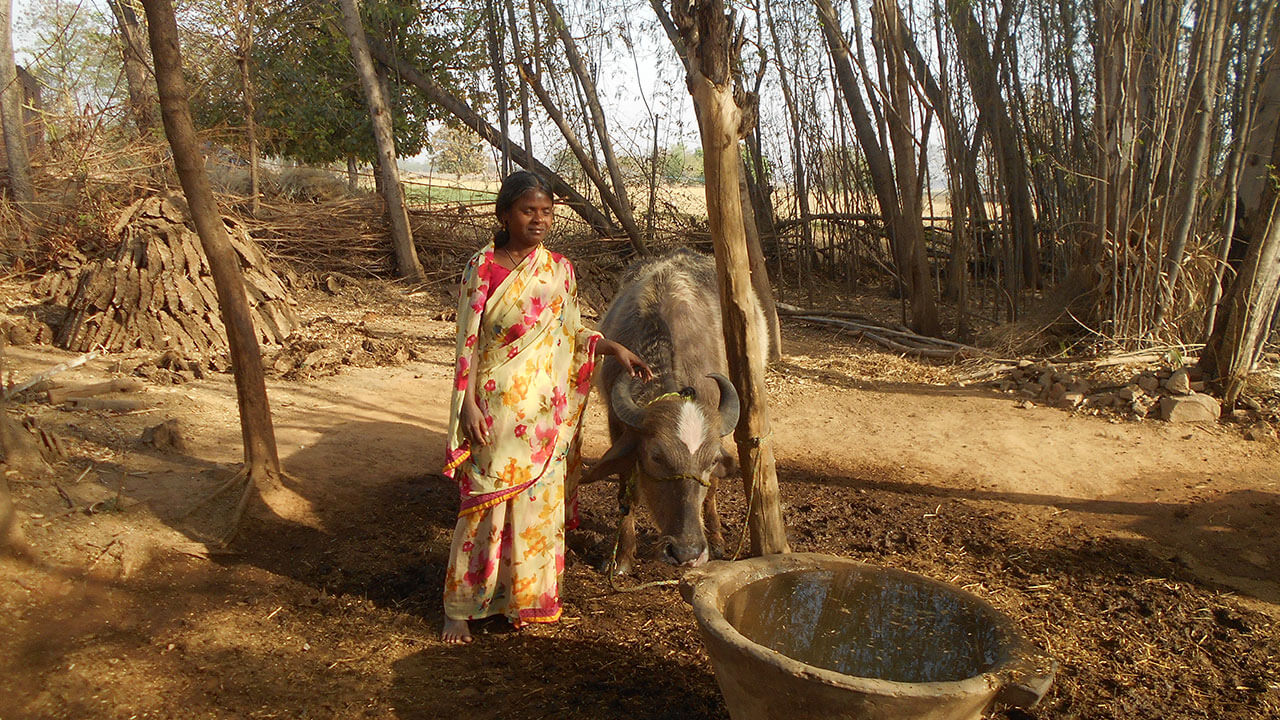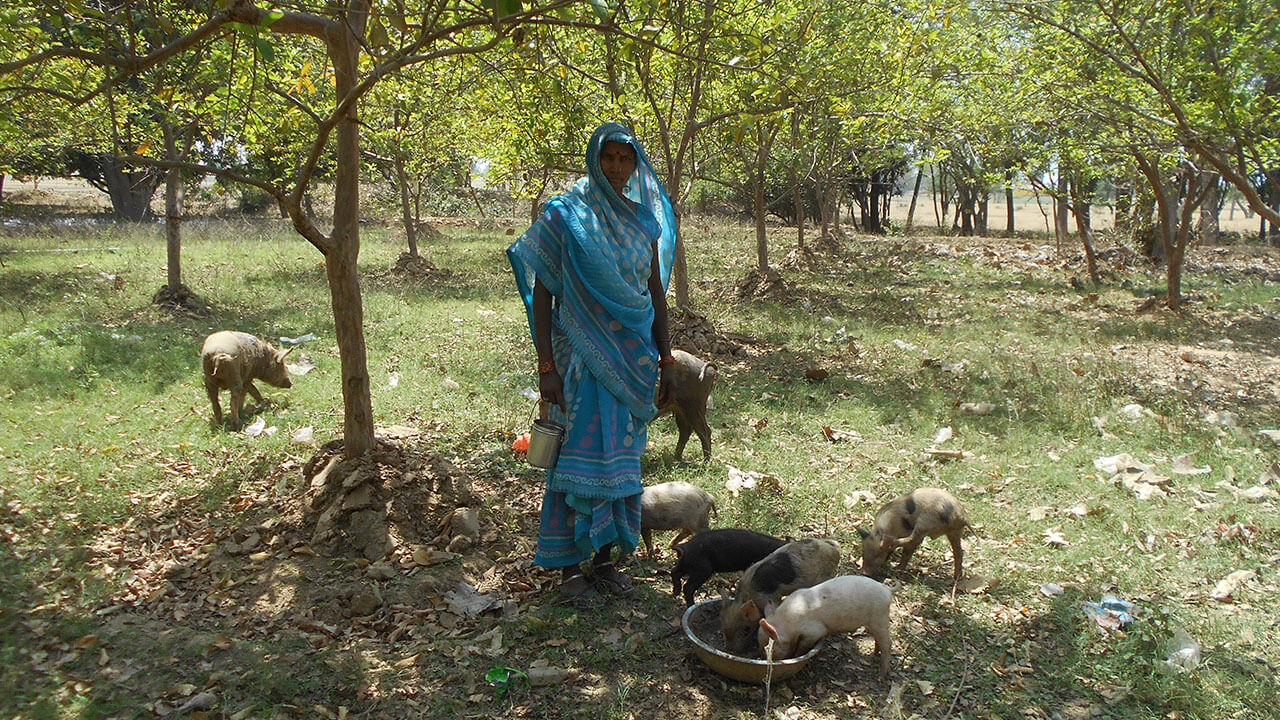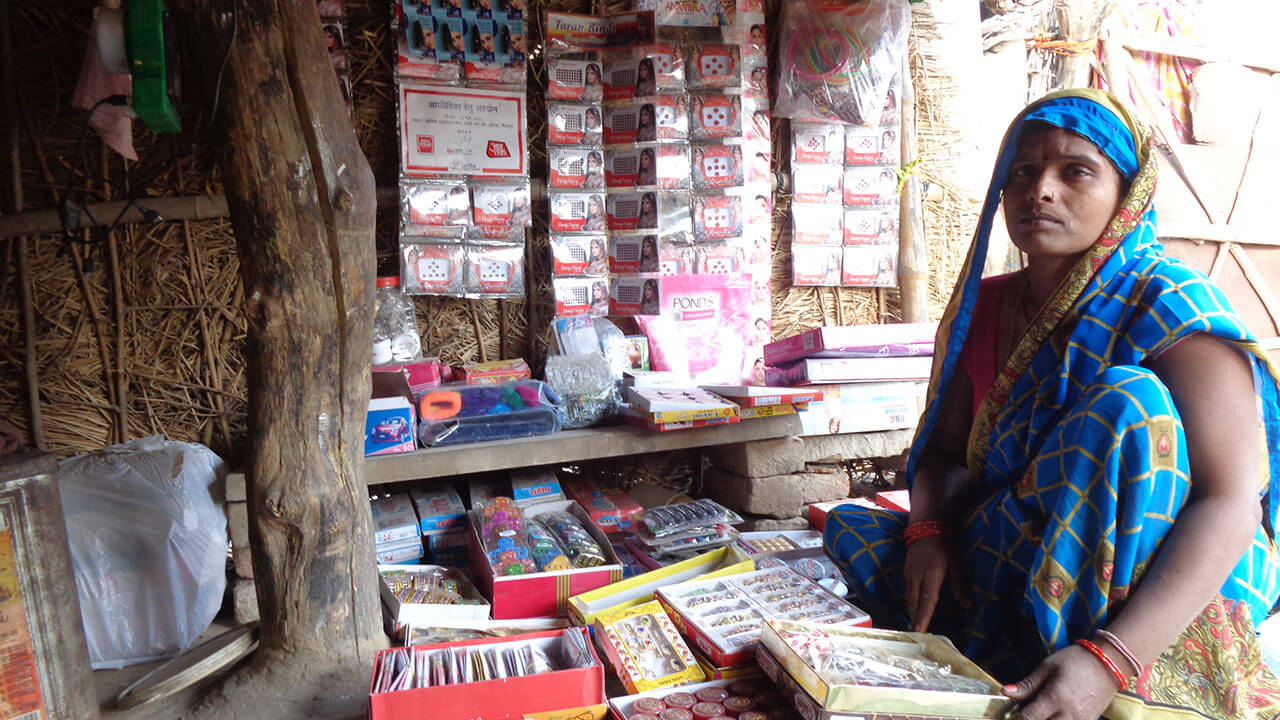 (From Left to Right): Livelihood support provided to covid-19 affected community members in Mirzapur district, U. P. — Ms. Brijwasi with buffalo; Ms. Punvasiya with pigs; Ms. Pratibha with tailoring machine; and Ms. Shoni Devi at her newly opened shop.
B. Livelihood support in Uttarakhand
In partnership with Society For Himalayan Agriculture & Rural Development, a resource centre is being setup in Gundri Khandnow, Augustyamuni block, Rudraprayag district, Uttarakhand that would facilitate storing farm products, process them, pack and market them. This will contribute towards sustainable income source for 165 poor and marginalized farming communities in villages of Sumanpur, Chopda, Saur Bhattgaon and Gundri Khandnow.
C. Livelihood support in Andhra Pradesh
In partnership with Visishta Gramodaya Swayam Sadhana Parishad, livelihood support was provided to 400 fishermen families in Kondakarla (136), Vadarapalle (150), Mallavaram (22) and Thotada (95) Villages in Munagapaka and Atchutapuram Mandals of Visakhapatnam District, Andhra Pradesh. The support included provisions of 10 fishing boats, 04 tourism boats, 30 safety jackets, 50 nylon fishing nets, 100 plastic baskets/cages, 2 lac fingerlings dropped into the Kondakarla lake, 2 units of seed culture in 1.5 hectares seed rearing feeding and spawn breeding processing, kitchen garden support to 100 women for food security, 50 units of fish vending accessory kits for women, including ice box, weighing machine, torch light, umbrella, tarpaulin sheet and cutting instruments. The support provided to the beneficiaries will resolve their financial crisis worsened in the aftermath of Covid-19 and provide sustainable income.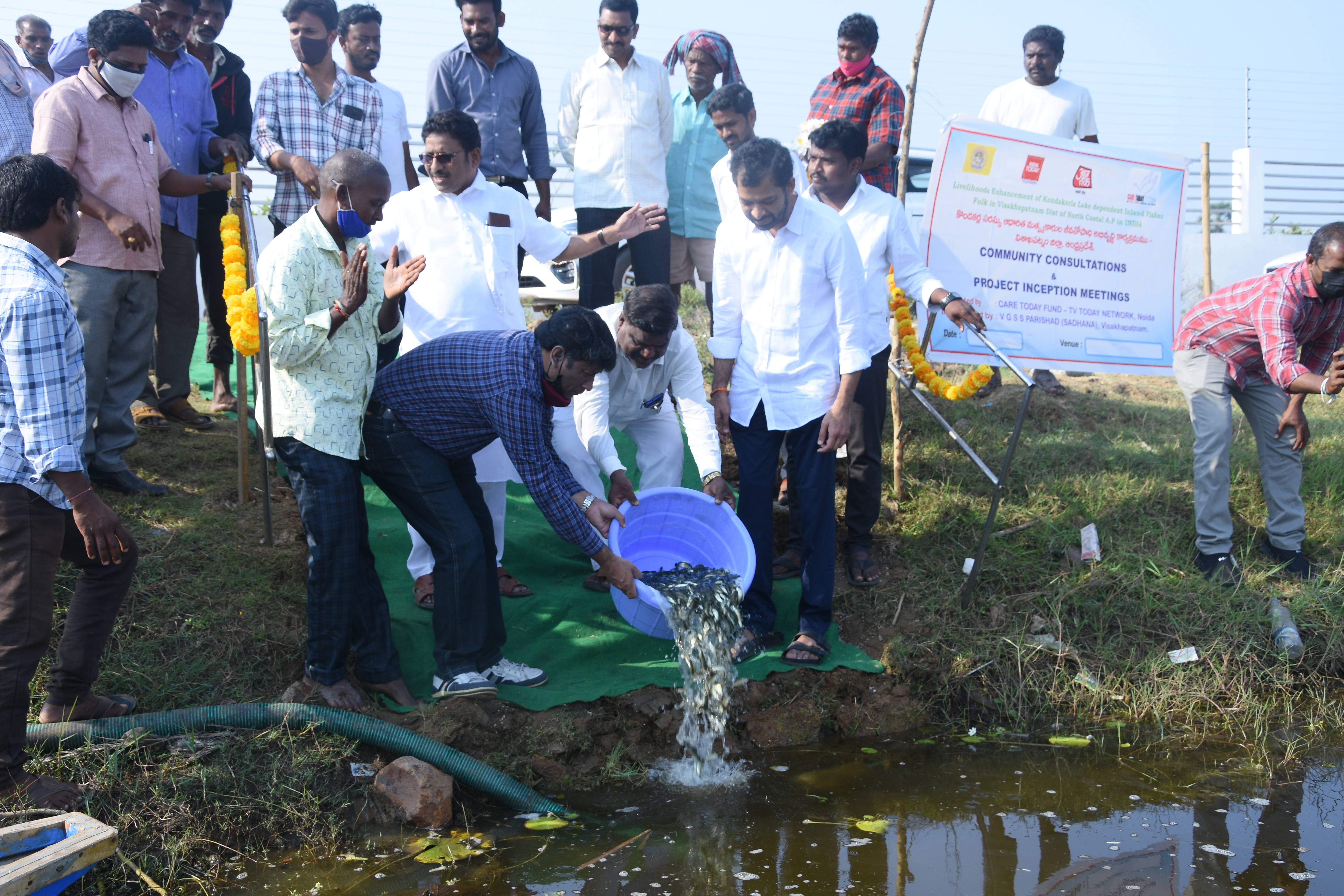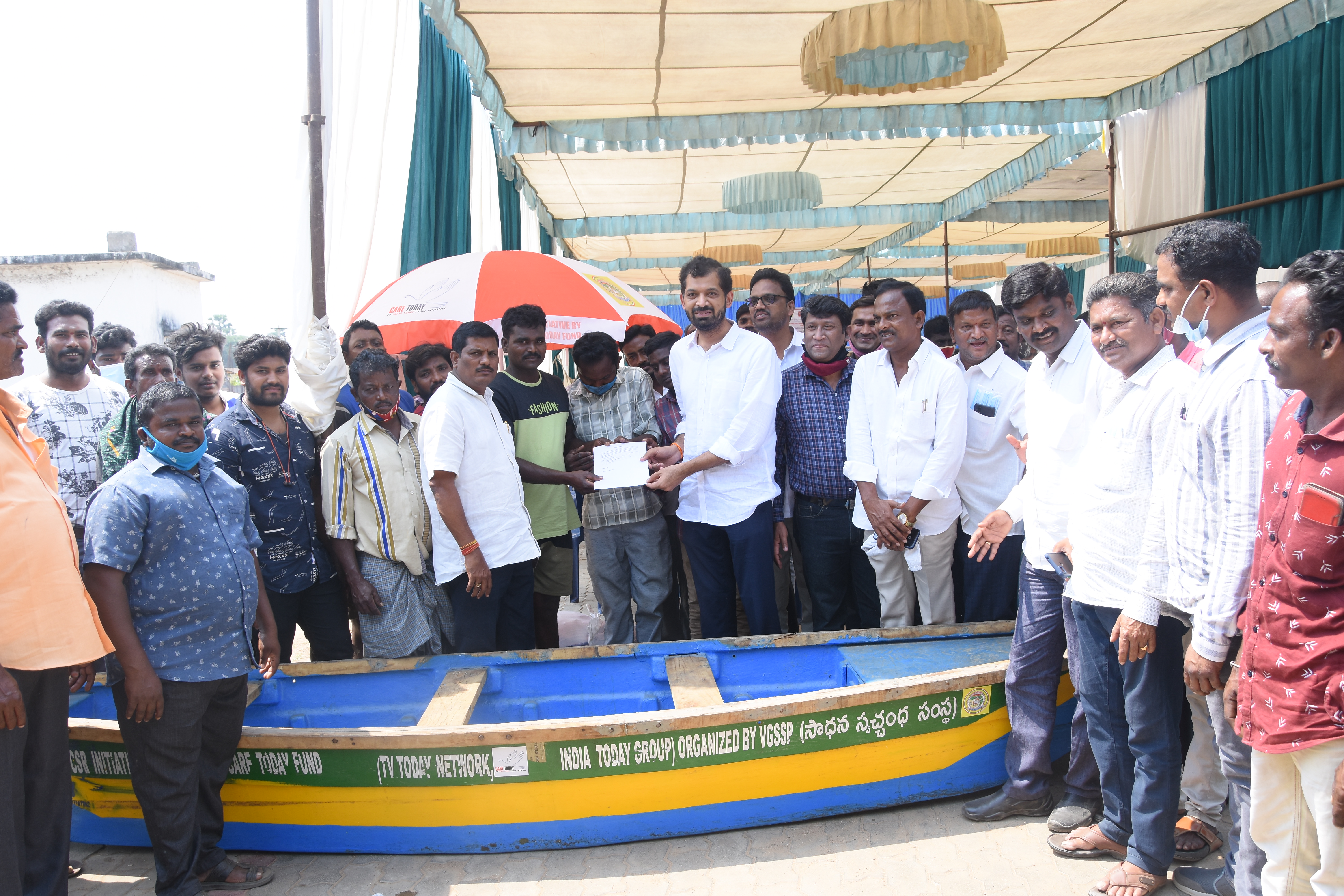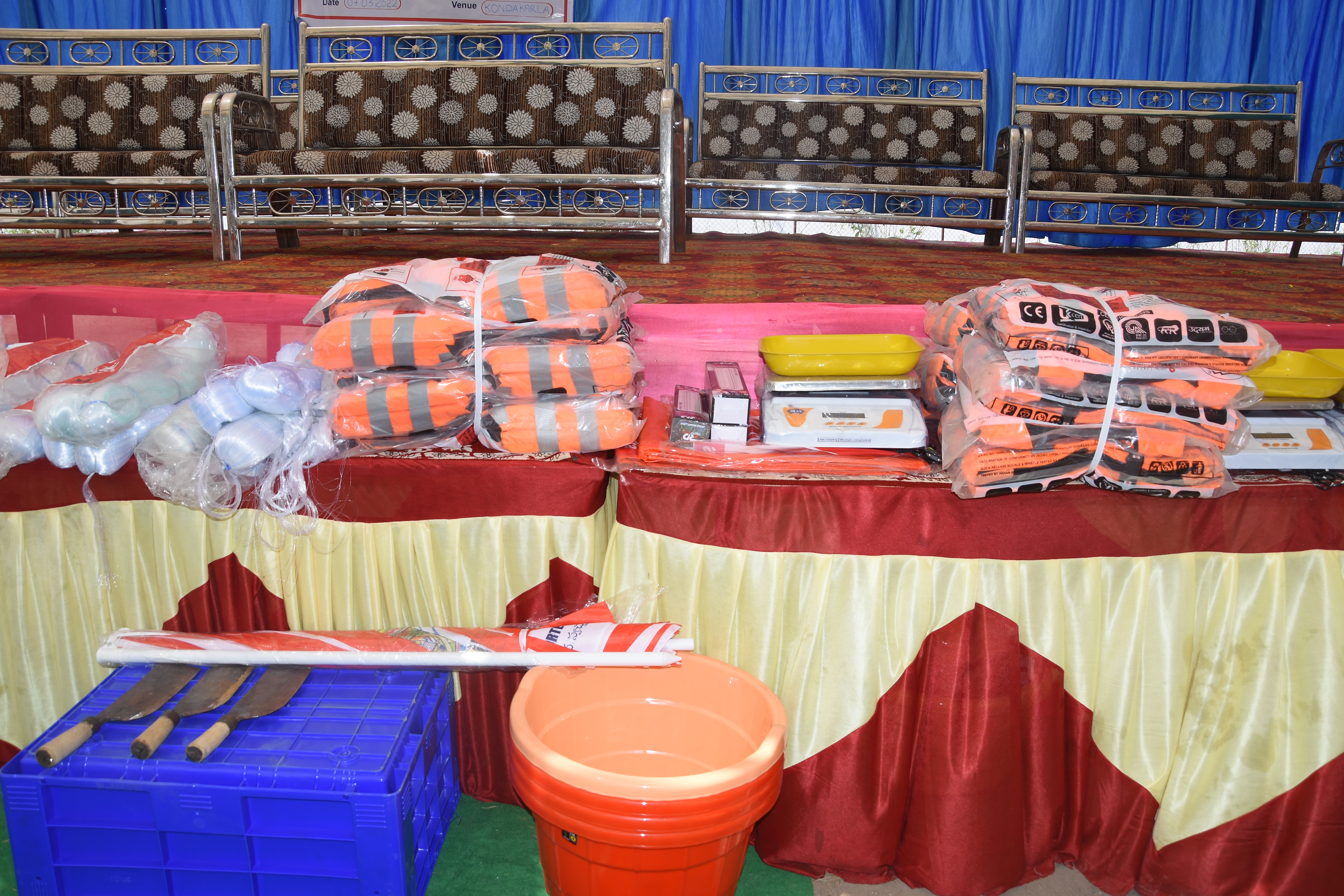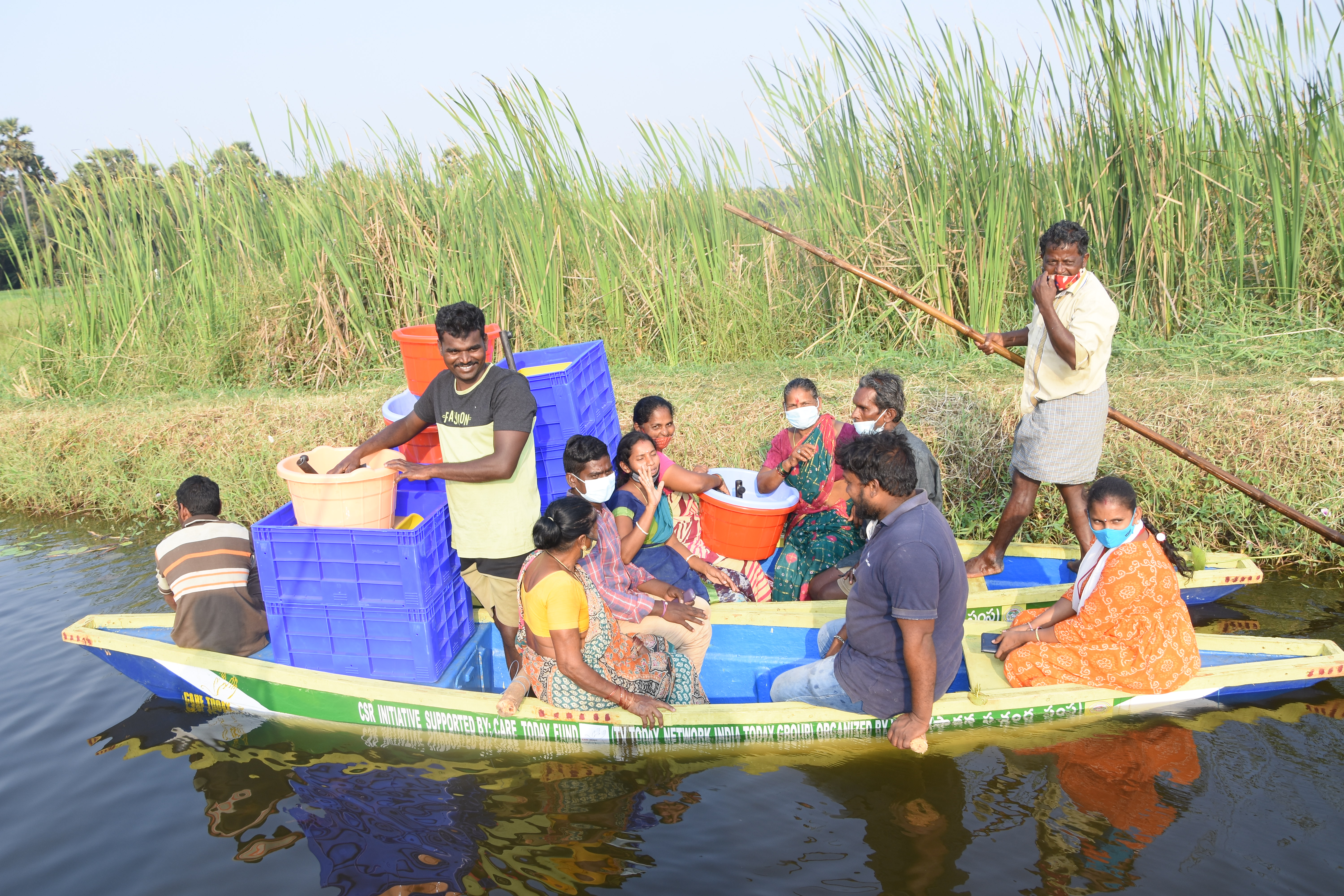 (Top Left to Right): Distribution of fishing boat to the beneficiaries by Ex-DCCB Chairman, Mr. Sukumara Varma and Vadrapalli Sarpanch, Mr. Nookara; Safety jackets and other fish vending kits distributed to fishermen in Andhra Pradesh_Livelihood; Releasing 2 lac fingerlings to Kondakarla Lake in Andhra Pradesh_Livelihood Project; and (Down) Happy beneficiaries returning home with their livelihood materials.
D. Livelihood support in Maharashtra
In partnership with U-Respect Foundation 100 youths (50 boys and 50 girls), including differently-abled youths, will be trained in phase-wise manner on various life-skill vocational courses in a period of 12 months in order to make them potential employable candidates and self-sustainable in Vikroli Parksite, Vikroli West, Mumbai, Maharashtra. Courses for boys include hospitality, electricals, air-conditioning mechanic, carpentry, welding and tailoring and course for girls include hospitality, tailoring, beauty and wellness and basic computer skills. At the initial phase, 29 girls were selected and were trained on beautician and tailoring courses.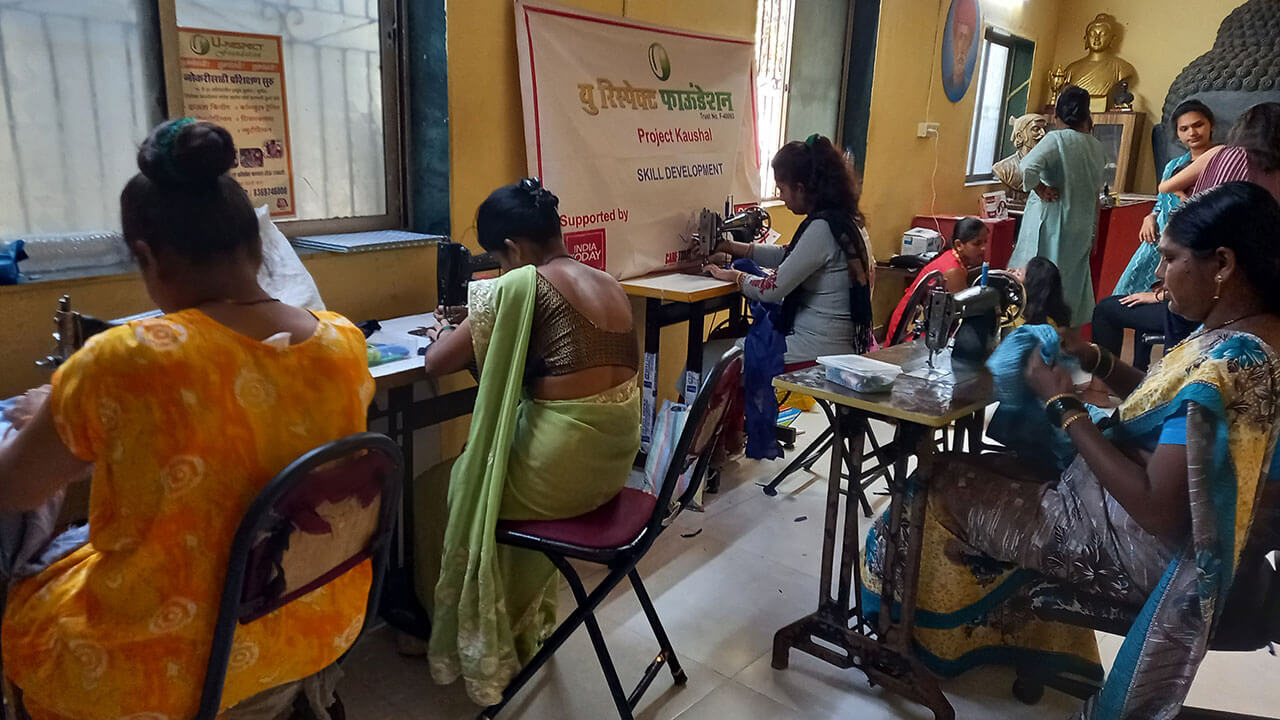 (Left) From the beautician training course; and From the tailoring training session (Right)
5. PROJECT ALIGNED TO DISASTER MANAGEMENT
In partnership with Human International Aid, support was provided to 1000 flood-affected families in Kollam, Pathanamthitta, Alappuzha and Kottayam districts of Kerala. The support included provision of dry ration, non-food items and hygiene kits.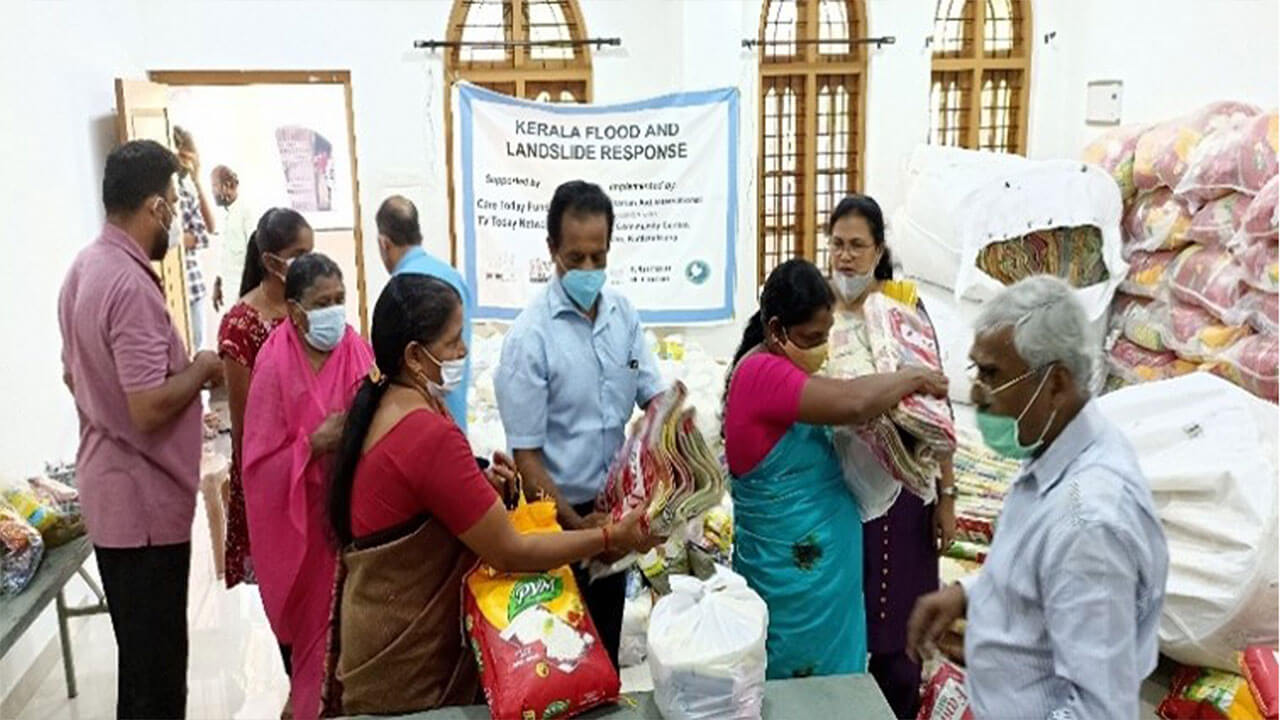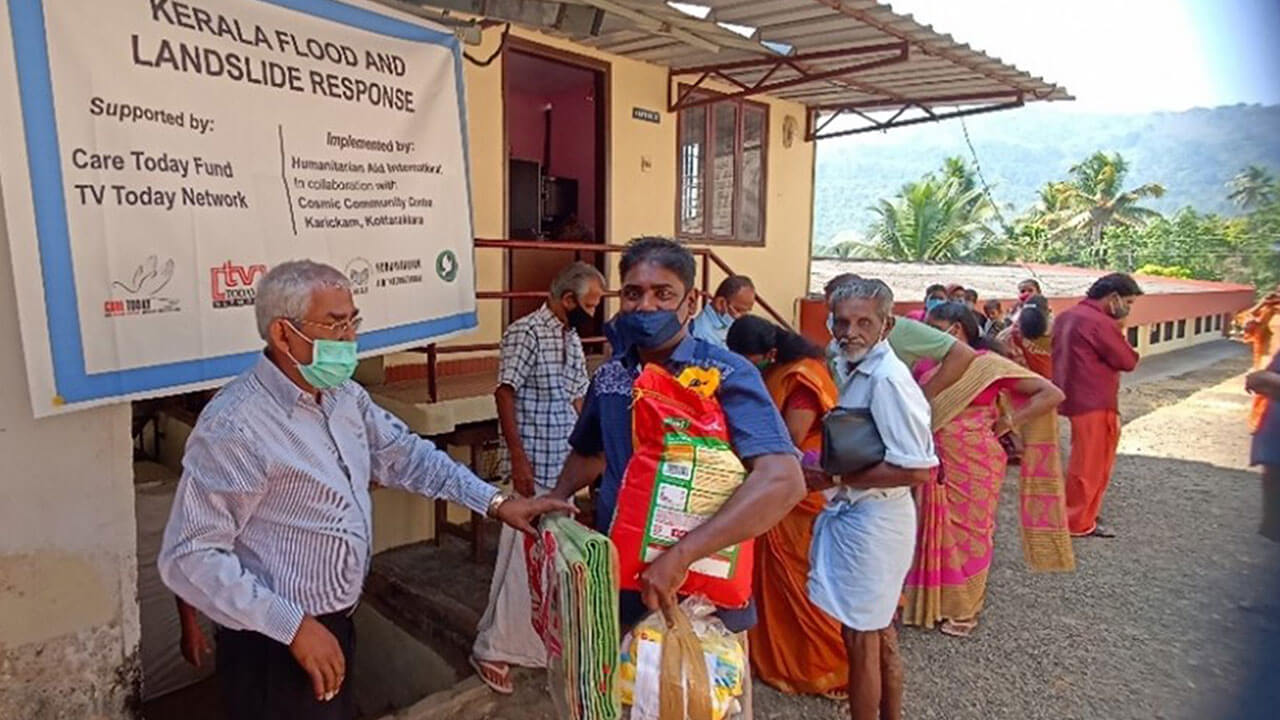 (Left to Right) Beneficiaries receiving flood relief kits in village Mundakkayam; and in village Kootuckkal, Kottayam district, Kerala.