St. Johnís Disaster Relief Team in the Nicobars

Arrival
Overnight at Chennai, the team stayed at the Andaman House where we began receiving much needed but minimal information and further contacts. On our arrival at Port Blair, we immediately based ourselves at the Bishop's house and the adjacent Pilar Health Center.A group of us then proceeded to the Developmental Commissioner (Health Secretary) Mr. Anshu Prakash and Director of Health Services Dr. Ms Namita Ali presenting ourselves at their disposal to be sent to places in most need for assistance. It is our rule that we always report to the local civilian authority to be directed to areas as needed locally and to ensure coordinated efforts in the field.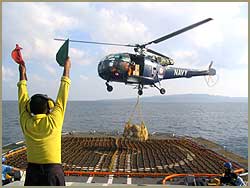 Airlift medicines from our life line I.N.S. Rajput Capt Aiya
They were most kind to then orient us to the existing situation and directed us to immediately leave on board the destroyer, I.N.S. Rajput proceeding to the Nancowry Block of Islands, south of Car Nicobar. The Commissioner on hearing of the nature of our team agreed that additional nurses are the potential need and immediately we got him on the phone to our Chief of Medical Services, Dr. Mary Ollapally, who within an hour had a team ready and they were flown into Port Blair the same day. This second team was composed of five nurses and an orthopedic doctor. The first team was assigned to Nancowry block and this second team was sent into Car Nicobar initially and later in the refugee camps of Port Blair. The first team steamed at over 20-25 knots to their destination and was flown by helicopter along with their medical relief supplies to Kamorta, the headquarters of Nancowry block. The second team was also flown into Car Nicobar. On board the I.N.S Rajput, we were most fortunate to have a captain (Capt Aiyappa) and crew most supportive of our efforts.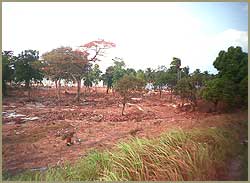 Destroyed village of Pilpillou on Kamorta Island
The Principal Medical Officer, Surg Lt Cdr Rath, had been posted on Kamorta Island, eight years ago and was a fantastic source of local information on whose whom on the island. It was his story about the "Queen and Prince" of Nancowry that was most useful in being able to develop rapidly a rapport to perform our duties on the island among the tribal population. Rashid's (the Prince of Nancowry) presence during our meetings made us even more acceptable to the community on the surrounding islands. Rajput airdropped us onto Kamorta where we reported to the Officer on Special Duty Mr. Uday Kumar and the DySP Sarvanana, both having arrived the previous day. They were sent in since the Assistant Commissioner at Kamorta had not returned to his island and his whereabouts were unclear. That evening Uday Kumar and Sarvanana had a meeting of all the Village Captains (elected leaders of the tribal villages on all islands were called 'Captains') along with the contractors, AE, Education Officers, PWD, Electricity, Telecommunication staff, Port Control, the Princess (Ayesha), Prince (Rashid) and everyone who was important for any sort of local coordinated effort. On islands such as these, everyone who is someone is so important that if even one is unhappy nothing gets done.
It was sad to hear that as we left the islands Mr. Uday Kumar was replaced by a seemingly competent Jt Secry Mr. P.R. Meena from Delhi to oversee further affairs along with a fresh graduate on his first posting as the new Asst Commissioner. DySP Sarvanana, a Vice Principal of a Police training school at Port Blair along with his young recruits played a most vital role of disposing of carcasses on most islands, providing security to relief supplies on islands and to medical teams in the field. The day we left, we missed him as had left at first light and was involved in locating the last few 17 tribals marooned in the jungle swamps of West Bay, Katchal Island. Of course, as usual the local politicians (from both sides of the political spectrum) slowed down any attempt to progress with work decisions the group was trying so very hard to coordinate efforts. Need we say that many were happy when some politicians actually insisted on boarding some of the relief transport to neighbouring islands and therefore being out of the way for a good many days. The main limiting factors were the absence of appropriate smaller vessels (Out board boats) to transport supplies and personnel to the far-flung islands since most jetties were destroyed and available motor vessels too large to beach; inadequate communications between islands in spite of attempts to place police wireless on all islands (unable to sustain needs with low power in batteries in the absence of generators that began to arrive towards the later part of our tenure).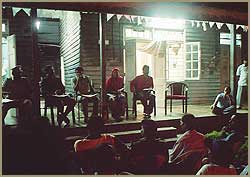 8 pm meetings on Kamorta with local officials and the prince
There were three camps on the island of Kamorta where community cooking and makeshift shelter was being provided. Rainwater harvested provided drinking water for the refugees. These islands had Tribals and Mainlanders. Most mainlanders were government officials and their families apart from merchants. There were many of them who had not been paid for bureaucratic reasons of being from different islands hence different accounts. On Katchal were the unique population of 1970s Sri Lankan Tamilian refugees now settled on Rubber plantations unique to inland Katchal. Apparently they had not been paid for over three months and when the merchant shops opened on many islands credit was unusual. On all islands we served the Tribals (Nicobari) were non-demanding, simple people who had already begun reconstructing their lives and shelters using locally available material (thatched coconut leaves, bamboo and jungle trees). They knew where the sources of drinking water streams existed and most moved inland to settle on high points knowing they were relatively safe from the fury of the coastal sea. It was difficult to read the minds of these people but considering the stories of survivors of the tsunami 10-18 meters high and at 400 kmph chasing people inland through the villages and withdrawing at similar speed, it must have been a terrifying sight. The psychological impact must be tremendous on this docile, non-aggressive population and will have to be addressed at the earliest to enable any sort of true rehabilitation. The NIMHANS team that usually follows us into the field every disaster would be in the right position to assist in this aspect. What was unusual is that the team was on the ground towards the second week, which some would consider too early in the stage of relief and rehabilitation.

Mr. Ajit Chaudhuri, Executive Director & Ms.Skalzang Youdon, Programme Officer
ajitc@intoday.com

Care Today Fund, F14/15 Connaught Place, New Delhi 110 001, India
Telephone: 011 2331214 (direct) 011 23315801/2/3/4 Extn.287