St. Johnís Disaster Relief Team in the Nicobars

Work begins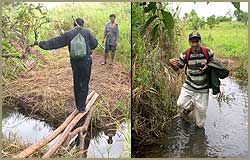 Trecking to and between camps on
Teressa island
The estimated toll on Nancowry block of islands has been estimated at around 5500 missing or dead out of a total of over 12633 (2001 census) See Figure A. The lack of publicity and media coverage compared with Car Nicobar and poor accessibility are possible reasons for a slight delay in intervention. Our teams were based at three locations but served many other islands using all available transportation means, even trekking through the tropical jungles with backpacks of medicine, wading and swimming between island and ships anchored off destroyed jetties. Teams were based on Kamorta Island, Teresa Island, Car Nicobar and Port Blair. From these islands, teams would mobilize everyday to serve the basti populations on Katchal especially the dense jungles on Upper Katchal near Vyatapu, Daring, the Pilpilou-Kakana village camps, the jungles inland on Car Nicobar, the camps of Chowra Island's evacuated population on Teressa Island, bastis formed between the destroyed Bengali-Alorang villages and the bastis/camps of populations from destroyed Kapanga-Mildera villages on Teressa. Strikingly, the islands have a over 81% literacy rate and with the board examinations due in March 2005, most Education Officers were well aware of the need for additional classes at the earliest and also a postponement. Education has been badly damaged as most schools were in the coastal villages and on Katchal alone at last count over 70-80 teachers out of 130 were missing or dead. Till medical assistance arrived there were numerous heroes like the nurse Sr. Dora and the volunteer Shanmugan on Katchal Island who ran a clinic from a church premises treating the wounded till Dr. Naresh Lal arrived on Wednesday.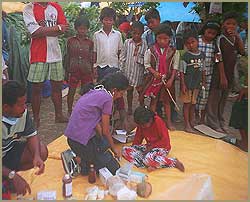 Pillpillou - Kakana villages on Kamorta
Kamorta was the Nancowry division's headquarters and had electricity restored with adequate water stored with most of its 2915 (2001 census) alive except for one person who decided to try and salvage his stored money for his wedding between tsunami waves lashing the fishing village near the coast. Islands on all sides that protected it from damage surround Kamorta. The island of Trinket is apparently torn into three and most mortality is on Katchal Island (>3500 out of 5000 plus population). The islands of Chowra (500 missing/dead/1385-2000 population); Teressa (300/2026-2200); Bambooka (4/40-55); Katchal (3500/5312-7000); Trinket (?/300); Nancowry (300/927-1000); Car Nicobar (18000/25000) were other estimates. The jetty now gets water up to 1.6 meters slowing down loading during that period of time. The jetty is the main point for operations - relief, medical, and water, fuel and shelter distribution. The three vessels MV Ramakrishna, MV Bulbul and MV Long Island and their hard working captains and crew were to be our best friends throughout our work in the area. Later, MV Shompen and Capt Pillai carried us on our small missions. Capt Pillai actually risked his life getting us onto the Teressa Island in a rather dangerous outboard boat and once again by jumping into the water to assist us while we swam to his vessel anchored out at sea in an attempt to communicate and decide on plans for the team. The team on Teressa Island found that the tents and sleeping bags pitched on the helipad near the basti most comfortable for a starry night sleep to enable them to wake at dawn (5 am) and put in a full days work. Of course, our friend Bandana Aul ("Bat-girl" to us!) kept us going with her stories of the tribal division of Nancowry. Bandana is the daughter of a retired General in Chandigarh and is a frequent visitor to these islands during her quest at research on various aspects of bats unique to these islands. Her rapport and local knowledge with the island population assisted us in carrying out our duties. It was the naval landing craft L-34 with Lt Cdr Bellary in command that thankfully dropped our team to the island of Teressa after the previously failed attempt aboard MV Long Island.
Teams would base themselves in bastis or camps and some of us would trek through the islands till evening helping persons in need of medical assistance. When teams found seriously injured or ill patients we would innovate and with the assistance of the village tribals evacuate them to hospitals wherever possible. Dr. Naresh Lal was the Chief Medical Officer at the Community Health Center on Kamorta whom we shared our stored supplies and assisted. He was the first one on Katchal Island on Wednesday and was actually stranded for two -three days and reported back the sad state of affairs. His manpower on all islands mostly stuck to their posts in spite of many a PHC being washed away and destroyed. Dr. Michael (PHC Medical Officer, Teressa Island) was one we worked alongside with. What we first saw was this young doctor short pants and vest, stethoscope hanging around his neck and a knee hammer in his pant loops. The team worked hard with Michael in their treks from basti to basti covering all in need of medical assistance. Dr. Felicetta (PHC Medical Officer) holding fort during the few days Dr. Lal was on Katchal helped us take care of the two patients we disembarked from Rajput while at sea. Both men in their early 20s had lost families in the tsunami and had received initiation of treatment on board I.N.S. Rajput under the care of Surg Lt Cdr Rath.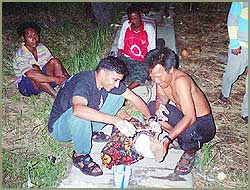 Fractures on bangala
One had a possible traumatic fracture dislocation elbow joint with a large hematoma and possible secondary infection. The other had a pneumonia and acute severe asthma. The team on their Upper Katchal visit had to do an Incision and Drainage and injected antibiotics for a patient in severe pain due to cellulites and large abscess formation on a foot of a person who refused to be evacuated. The team also identified two other patients evacuated onto Teressa Island with severe traumatic spinal paraplegia and was able to support and minimize damage before getting them evacuated to Car Nicobar. On Car Nicobar, a young boy child found inland on Car Nicobar needed a reduction of a hip joint, rather painful but needed to enable transportation to the nearest hospital.

In most medical clinics in the field, we noticed no epidemics (sea washing away most debris/carcasses; water sources inland and protected from the death and destruction) and most who were brought in were children (44.7-60.7%). Among morbidity patterns as expected were injuries 10-24% (few major as illustrated above but mostly minor soft tissue injuries); Respiratory problems 28-76.2% (upper and lower respiratory problems, hyperactive airways, occasional pneumonia - mainly due to exposure to natural elements in the present inadequacies of clothing and shelter); Skin problems 8-24.7% (an exaggeration of usual problems, predominately children, on exposed parts of the body, with no burrows/family histories, probably related to the slush and the presence of tall grass to be walked through to reach new basti sites). At present there is no need for any supplies beyond the Essential Drug List made out by WHO and neither should nay other drugs be allowed into the area. Every evening teams would sit around their tents or at the dispensary set up (usually the only meal of the day!) and discuss the days events completing report and plan for the day. Morale was kept high and team responsibilities included Team doctors (to monitor team health, Doxy for malaria prophylaxis), Team Logistic officer (check and monitor supplies), Team Mascot (to bear the brunt of our jokes and jabs) and even Team entertainer (which invariably changed persons depending who felt the happiest!). Routine medical needs continue and even interventions for delivery and labour are usually not catered for in disaster relief. Our team on Teressa had to assist in such routine care and support. At other clinics, patients on AntiTB drugs, Diabetics, Hypertensives and even persons with poor eyesight needed their routine care. When these patients came to our notice we did inform in writing their contact details to enable restoration of their routine care.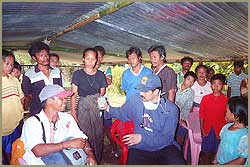 Khalasi camp teaching chlorination o fwater supplies
Apart from curative medicine and surgical interventions, Teams stressed on and taught through demonstrations-practice methods to chlorinate stored drinking water sources, encouraged trench latrines and personal hygiene. This regular medical status feedback was sent daily to the local administrator and the navy to enable needs assessment and thus the urgent requests for additional tents and tarpaulins to protect against the elements. The populations deep in the jungles of Upper Katchal were relatively well protected from the elements and therefore showed less respiratory problems. Those on the 110 mt elevation on northern Kamorta (Pilpilou and Kakana) with little tree cover certainly had to live exposed to wind and even rainfall which occurred on more than once. Teams initially on Car Nicobar assisted the lone 4 nurses in the performance of their duties and then began field trips into inland Car Nicobar to help people in need. On their return to Port Blair, they were engaged in specifically two refugee camps (Nirmala School - 2000 people; Haddo Public School - 800 people) running clinics including antenatal and postnatal care. They also assisted in all activities of camp life as a part of psychological support - involving victims in tasks needed in camp life, sitting, talking, counseling, pre and school related classes (Action songs, Mathematics, Science, Language), even meditation and play/diversion therapy with the children in the camps. Other camps covered partially were Chouldari (300), Chidia Tapu (250), New Wandoor (116) and Wandoor (75). As the camps began to close over the weekend it was decided that they could be withdrawn - a job well done in an hour of need!

Mr. Ajit Chaudhuri, Executive Director & Ms.Skalzang Youdon, Programme Officer
ajitc@intoday.com

Care Today Fund, F14/15 Connaught Place, New Delhi 110 001, India
Telephone: 011 2331214 (direct) 011 23315801/2/3/4 Extn.287