St. Johnís Disaster Relief Team in the Nicobars

Preparation
On arrival at hospital our Disaster Relief and Training Unit was activated and immediate clearance was sought from our Director and as usual there was no hesitation. The next step was deciding where we should move to be most effective in our work. The coastal area of Tamil Nadu was dropped from our list, as we knew that there were numerous health care institutions in the vicinity and they would surely respond. In addition, our expertise and ability to base us in extreme areas made the Andaman and Nicobars the place to help considering the relative more need for medical assistance. Sitting in a busy out patient, the first calls to 'old friends' (Ajit Chowdry - Care Today; Parveen Sikand - Child for Life; Rev Fr Dr Thomas Kalam - Director and administrator St. John's Disaster Relief Fund; Rear Adm Raja Menon - Delhi based strategic studies) got us commitments for sums of money so important to enable a rapid and effective response. Need I say return calls within an hour confirmed the commitment and set the ball rolling. Within four hours, we had 49 volunteers with contact numbers and skills classified and our Pharmacy had packed the list of WHO essential drugs needed for our use.

Naval Officer in Charge Andaman & Nicobar headquarters at Port Blair Disa
Jet airways gave us our bookings to fly into Port Blair via Chennai and even flew our supplies and equipment free of charge. Dr. T. Venkatesh (St. John's-Spark Adventures) by the end of the day handed us our usual team shelter we always carry. Our team always travels into an affected area totally independent with food and water fro 48-72 hours, our own medical supplies and equipment, our own tents and sleeping bags, medical protocols and communications. This enables the team to begin work on arrival and to avoid becoming a burden on the local population we intended to help. Unfortunately, our HAM contact had just undergone cardiac surgery and we could not make contact, only carrying various cell phones as communication (Only BSNL existed on the island capital of Port Blair). Beyond Port Blair we lost routine means of communication till the Earth satellite station on Kamorta Island was repaired a few days later. The selection of the first team was based on a need for a general-purpose team considering anticipated medical needs with knowledge that a tsunami usually had some components of both earthquake and cyclone-flood related medical problems.
The first team had a Surgeon (with Orthopedic and Paediatric experience), anesthesiologist, emergency physician and two multipurpose nurses (Emergency medicine, Neurosurgical-Paediatric experienced). In addition, we had an Ophthalmologist who was experienced having worked for two years in the same area as a part of St. John's mandatory rural-underserved area bond and the team leader, a Paediatrician. Gender issues and the ability to cater to the needs of vulnerable populations in disaster areas were also the basis of team selection by the leader. The number of available reservations limited the seven-member team and the team selection was based on the need for a team capable of handling most emergencies and other anticipated health needs specific for the disaster.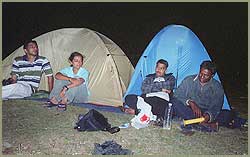 Camp site briefing
In addition, local contacts were important to enhance effectiveness and the mix of youthful enthusiasm and motivation along with restrain, caution and experience made this team exceptionally effective, innovative and most importantly, a team. With a brief orientation of expectations, roles and responsibilities of team members, all were kept on standby till further notice. All members carried their own minimal baggage, stationary/photographic equipment to document activities, personal medicine kits, sleeping bags/tents, dry food and water. The team was started on malaria prophylaxis. The exit time/date was decided upon once the team leader was certain that no further information was forthcoming from the administration on the islands, travel plans were in place and the leader was satisfied that the team would be reasonably safe and able to travel as deep as necessary rather than getting stranded on Port Blair.

Mr. Ajit Chaudhuri, Executive Director & Ms.Skalzang Youdon, Programme Officer
ajitc@intoday.com

Care Today Fund, F14/15 Connaught Place, New Delhi 110 001, India
Telephone: 011 2331214 (direct) 011 23315801/2/3/4 Extn.287